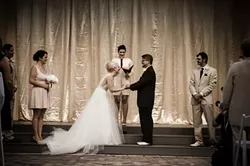 Shopping for your wedding dress is supposed to be one of the happiest experiences of a woman's life. For Orlando woman, Nina Talley, the problems began once she found the dress of her dreams. After trying on over 30 dresses, with a few almost-perfects, she finally found THE DRESS. However,  at $10,000, THE DRESS was way out of Talley's budget.
Not deterred, she gathered her bridal party and visited a local bridal shop, armed with a photo of the dress, hoping to find something similar. After only thirty minutes of looking through every bridal catalogue in the store, Talley lucked out. She was able to find a dress that was similar enough to the one she fell in love with. All she'd need is a few alterations. She tried on the floor model and ordered one in her size on the spot.
After waiting eight long months of waiting for her dress to come in, Talley finally got the call and made an appointment at the bridal shop to try on her dress and discuss alterations. On the day of Talley's appointment, a middle-aged woman was being fitted for her mother-of-the-bride dress at the bridal shop. Talley tried on her wedding dress and started talking alterations with the seamstress, which included removing the bustier, and opening up the front, back and sides. After listening to the alteration discussions, the mother of the bride felt compelled to speak up, "What is this going to be, a nude beach wedding?"
Now, y'all can see the picture of the final product up there, right? Does that look like something one would wear to a nude wedding? I think it's gorgeous and, most importantly, she (and her new husband) look extremely happy. That's what's important right? Not what some middle-aged mother of the bride stranger thought of her dream dress! I mean, the stranger didn't even get to see the finished product. She just heard about it! Talley talks a bit more in depth about her entire slut shaming experience over on  xoJane. It's totally worth a read.
Besides, Talley obviously has an excellent eye for fashion.