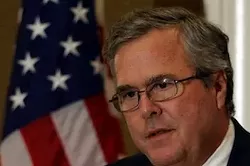 Everybody grab your school vouchers and weird "choice" signs and pricey family trees, because Jeb Bush is slated to speak, at the behest of the Winter Park Institute, at Rollins tonight! And it all sounds very serious and daunting, because, well LIFE IS HARD RIGHT NOW, or something. Here, look at the promotional handbill! TIMES ARE UNCERTAIN! AMERICA STILL HAS PROMISE. JUST BRING US ANOTHER BUSH!
Pantywaist, this wouldn't be such a big deal – he is a former governor, he does live in Miami, he still runs a lot of situations that make rich people happy – if it weren't for the rampant speculation that ol' Jeb is ramping up for a nepotism mud-wrestle with Lady Hillary Clinton in the 2016 general election. Yeah, yeah, we know. His mom doesn't want him to do it because she is so fucking tired of these self-obsessed men in her life having to hustle on the road just to get criticized by pundits for broccoli or Katrina or unwarranted wars. It must get boring after awhile.
The WPI website doesn't offer much by way of Bush's politics, instead opting for a soft-focus bio that doesn't even mention the fact that the chubby Bush is currently pulling the strings that are ruining Florida's public education system. To wit:
Jeb Bush was elected the 43rd Governor of the state of Florida on November 3, 1998, and was re-elected by a wide margin in 2002. His second term as Governor ended in January 2007.

Bush earned a bachelor's degree in Latin American Affairs from the University of Texas at Austin and moved to Florida in 1981. With partner Amando Codina, he started a small real estate development company, which grew to become the largest, full-service commercial real estate company in South Florida.

Bush served as Florida's secretary of commerce under Bob Martinez, Florida's 40th governor. As secretary of commerce, he promoted Florida's business climate worldwide. Following an unsuccessful bid for Governor in 1994, Bush founded the non-profit Foundation for Florida's Future, which joined forces with the Greater Miami Urban League to establish one of the state's first charter schools. He also co-authored Profiles in Character, a book profiling 14 of Florida's civic heroespeople making a difference without claiming a single news headline.

After his election, Bush focused on reforming education. Florida students have made the greatest gains in achievement and Florida is one of a handful of states that have narrowed the achievement gap. In addition, Bush cut taxes every year during his tenure as Governor and Florida led the nation in job growth. Bush put Florida on the forefront of consumer healthcare advances by signing Medicaid reform legislation, "Empowered Care," in June 2006.

Bush is currently the head of his own successful consulting business, Jeb Bush and Associates, where his clients range from small technology start-ups to well-known Fortune 500 companies. He is also the chairman of Foundation for Excellence in Education, a national foundation focused on education reform, co-chairman of the Barbara Bush Family Literacy Foundation and chair of the National Constitution Center. He is co-author of Immigration Wars: Forging an American Solution (March 2013).

Bush is the son of former President George H.W. Bush and Barbara Bush. He lives in Miami with his wife Columba, and they have three children and two grandchildren.
Sweet, right? Anyway, since he's improved educations so much by privatizing it and making teachers miserable, we thought you might be interested that he's here – ON THE SAME DAY THAT BARACK OBAMA IS AT VALENCIA WITH THE REGULAR FOLK – peddling something that sounds vaguely like a scare tactic. Meanwhile, speculation is still running rampant that Bush – who will be trading chips with casino magnate Sheldon Adelson shortly, among others – could be the moderate antidote to the Ted Cruzes and Scott Walkers when primary season rolls around. Here's a great story about that inside noise (excerpted below).
By all appearances, former Florida governor Jeb Bush is a man on a mission.

His itinerary for the next several weeks includes stops in Tennessee, New Mexico and Nevada to appear with Republican candidates in this fall's elections or help them raise money for their campaigns.

And then he speaks at a dinner ahead of a Republican Jewish Coalition meeting featuring several potential Republican presidential contenders at the Venetian Hotel in Las Vegas. The hotel is owned by casino magnate Sheldon Adelson, who gave over $100 million to Republican candidates in 2012.

So what, exactly, is Jeb Bush up to? Could Bush, 61, the son of a U.S. president and the brother of another, quietly be laying the groundwork for a historic attempt to become the third member of his family to occupy the White House?

When Bush is asked if he will run in 2016, he deflects, saying he will decide by the end of this year based on family considerations and whether he thinks he can run "joyfully."

Bush's spokeswoman, Kristy Campbell, declined to comment.

But several other people close to him say that now more than ever, there are signs he might look past several potential hurdles - including polls that suggest Americans are not exactly enthralled with the idea of another President Bush - and seriously consider stepping into the fray.
It's unlikely that you'll be able to get in tonight, but there may be an overflow situation, or a nice piece of land upon which you can stand wanly with a poster in your hand hoping for the world to change. These are "uncertain times" after all.