Happy Friday! I bet you wish it was time to go home or at least get your happy ass to happy hour, right? Well, these links should help you through the last few hours of your week:
1. In California, there's a restaurant that serves what it calls the 'Merica Burger. The patty, instead of being made of ground beef, is made from 100 percent ground bacon, then topped off with a sunny side up egg and more bacon, in the form of bacon cheddar cheese, "bacon island" dressing and, oh yeah, actual bacon. In the spirit of Epic Meal Time, FoodBeast decided that this wasn't enough and set out to make a 100 percent bacon burger, where every single thing on the burger has a bit of bacon in it. Yes, even the bun, which is coated with bacon bits and pork rinds.  That sound you hear? That's your heart waving the white flag.
2. Sen. Dan Coates from Indiana has responded to Putin banning him from Russia in a most hilarious manner. Coates represents the great state of Indiana, which is where late-night television host David Letterman hails from. In the spirit of Letterman's nightly Top Ten Lists, Sen. Coates took to his Twitter with a list of his own informally titled "The top 10 things I won't be able to do since Putin banned me from Russia."
61 shots of sexy (and silly!) cosplay
61 shots of sexy (and silly!) cosplay
3. MegaCon 2014 started today. We can't wait to witness all the fantastic cosplay that'll be going on, both the absurdly nerdy devotion and the creatively (sometimes scarringly) sexy versions of beloved franchise characters. Our gallery of 61 shots of sexy (and silly!) cosplay gives you the best of both worlds. Bonus: We'll have a gallery from MegaCon festivities up next week, too!
4. Stop saying "specific" wrong, dammit! From "ask" to "tenet," here's a guide on how to pronounce 17 frequently mispronounced words properly. The article also delves into why proper pronunciation is so important. If you'd like to learn the correct pronunciation of way more than just 17 words, YourDictionary has a list of the 100 most mispronounced words. Some of these really made me giggle. Old timers disease? Carpool tunnel syndrome?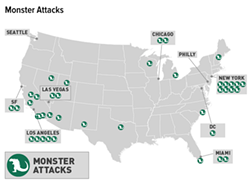 5. If you've ever wondered which U.S. city has suffered from the most cinematic monster attacks, Influenster has made a handy graphic for you. Looks like Orlando's pretty safe, but, holy shit, I do not want to live in California movieland.