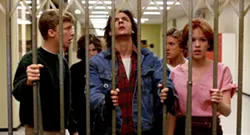 Saturday...March 24, 1984. Shermer High School, Shermer, Illinois 60062. Dear Mr. Vernon...we accept the fact that we had to sacrifice a whole Saturday in detention for whatever it was that we did wrong. What we did was wrong. But we think you're crazy to make us write this essay telling you who we think we are. What do you care? You see us as you want to see us...in the simplest terms and the most convenient definitions. You see us as a brain, an athelete, a basket case, a princess and a criminal. Correct? That's the way we saw each other at seven o'clock this morning.

We were brainwashed...
It's such a strange and disorienting feeling when a touchstone of being young and frustrated turns a landmark age as John Hughs's The Breakfast Club does today (or by the date it takes place on anyway; its release date was in February).
The film belongs strongly to the 80s -- it might be the signature film of the 80s, in fact -- but throughout the years has become timeless as generations since have picked up on its keen observations and well drawn characters. They are detailed to enough to be specific and alive, yet broad enough for everyone to have someone in the film to latch onto. Everyone has an in. It's the basket case for me, though I can certainly see things from Brian and Andy's perspectives as well.
The film came out when I was still 3 years old, yet feels attuned to how I felt at 16 when I finally saw it years later. As much as they are a brain, an athlete, a basket case, a princess and a criminal, none of them are. It's all fear and stupidity. That's all being a teenager is about, it just comes out in different ways. It sounds cliche and overly reductive to say it like that, but the best themes in film are always the simplest themes. It's all a matter of dramatic (or comedic) degree after that.
Whether he actually knew he was writing about fear or not, Hughes destroyed it when he wrote the script (the first draft allegedly over one weekend -- read it here, it's a very good read and has more insight into the characters). He'd written and directed entertaining movies before (as he did after) but never made anything as powerful, perceptive, funny or universal.
There is a line in the original draft of the screenplay when Bender is hiding under the table and sticks his head up Claire's (Cathy, early) skirt that sort of reminds of me Hughes writing this script:
Raw, unrepeatable power is the perfect notion of this film. It's lightning, caught.
Though as lightning does when it strikes, it leaves the ground marred. I've always considered the ending of the film (mostly Allison cleaning up and hooking up with Andy, while Brain is forever alone) to be a black mark on the film. I'm hardly alone in that though, of course. The issue stems from this: Hughes has the princess clean the basket case up and pairs her off with the jock. That just didn't work for me on any level when I was younger. I considered it cinematic theft by the criminally insane misfit, John Hughes.
But I'm older now. The film is 30, I'm 33. I'm an adult, sort of, and I see the ending different -- or at least I feel it less. I'm not as attached to the film itself or the characters as I am to the idea of myself being young and frustrated by adults and this film reflecting that so well. The more true ending would have been the five reverting to their social roles come Monday morning, but in a strange way Hughes might have written the most teenage ending to the film possible, because, really, what does a teenager do better than making a mistake at the worst moment?