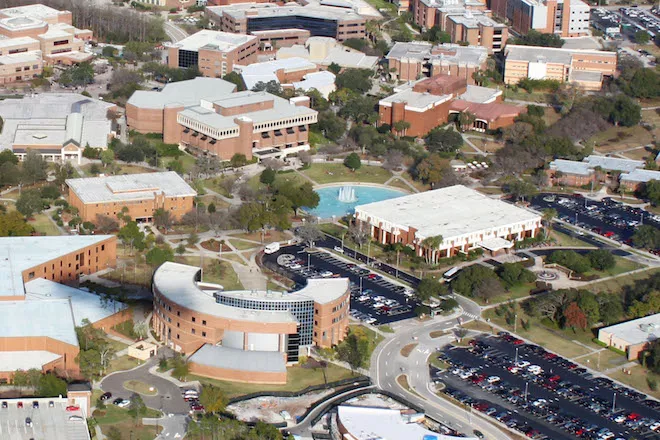 Next month,  a committee of the University of Central Florida board of trustees meets to discuss the possibility of opening a boutique hotel on campus. Boutique hotels are smaller, typically more luxurious hotels that have no more than 150 rooms. I know what you're thinking, who's gonna stay in these rooms aside from parents at graduation? The hotel could also house visiting lecturers and higher education students in town for a short bit of coursework. Or, you know, football fans who don't want to drive home after the big game.
Once the committee decides to move forward with the project, they will seek out proposals from developers, who will be responsible for construction and operating costs. I dunno, I kinda think an on-campus hotel would be a fantastic learning experience for students of the Rosen College of Hospitality Management.
Many other colleges and universities across the country have added a hotel as part of their campus. The Blackwell Inn on the Ohio State University campus is part of the OSU Fisher College of Business. Current OSU students make up the staff of the hotel's bistro, Bistro2110. At Cornell University in Ithaca, NY, the Statler Hotel is a hands-on teaching hotel, where students from Cornell's School of Hotel Administration get job experience related to their future careers in hotel management.
Here in the Orlando area, Rollins College opened the Alfond Inn in 2013, located a block from the campus. Funded by a generous grant, the 112-room hotel is owned by Rollins college, but operated by an independent hotel management company. Portions of the hotel's revenue help to fund the Alfond Scholars program, which gives up to 10 full scholarships per academic year.
If approved, the UCF hotel will be built on Alafaya Trail, between University and Centaurus boulevards. Regarding the potential project, university spokesman Chad Binette said, "Particularly during the years of state budget cuts, we have been interested in seeking new revenue streams that don't originate from tuition or taxes. If the income is substantial, a hotel could provide a service to the university community, families and visitors while generating revenue for the university at the same time."