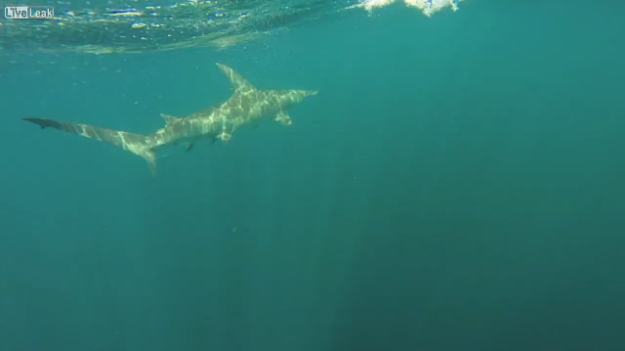 So, there Adam Fisk was, minding his own business, fishing in his kayak, taking full advantage of the beautiful Boynton Beach weather. Finally, he gets a nibble on his line. Well, it was more like a big chomp. You know, the kind of chomp a shark would make. That's exactly what was on the other end of Fisk's line, an 11-foot hammerhead shark. I can't even imagine the jolt of terror he felt when he learned that he hooked something pretty close in size to the kayak he was riding in.
Fisk must be some kind of thrill-seeker, because instead of freaking the fuck out, he grabbed his camera and filmed portions of the two-hour joyride. He even put the camera underwater so that he could get a glimpse of what was towing him. Fisk said about the experience, "I was also a bit wary of filming while it charged, as I was all alone with no one to help if anything went wrong... Looking back, a bit nerve-wracking."
Fisk eventually cut the line before his shark-powered ride took him too far from home. As it was, the shark dragged him about eight miles from where he started out.
You can check out Fisk's entire video below. Pay special attention to around 3:40. That's when you can see the tow-shark in action.