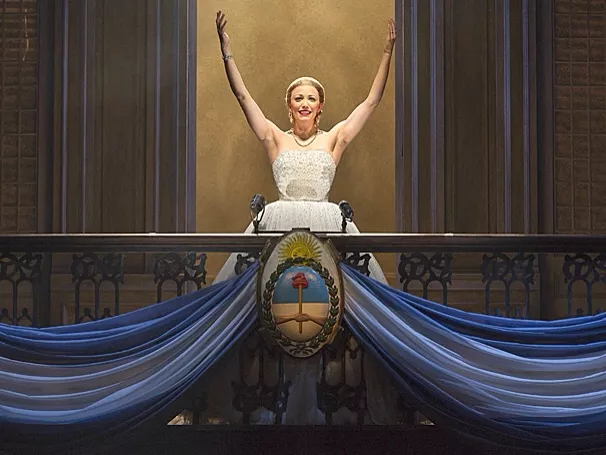 Caroline Bowman as Evita (photo courtesy Broadway Across America)
Oh what a circus, oh what a show! Even the most dedicated Andrew Lloyd Webber detractor must admit that Evita, the composer's third and final successful collaboration with lyricist Tim Rice, remains his most rich and rewarding work, as aptly demonstrated by the handsome recent revival from Fairwinds' Broadway Across America that's currently on tour at Orlando's Bob Carr (now through March 30).
If you need a refresher on the facts of former Argentinian First Lady Eva Peron's life, read a biography; this play has always been less concerned with historical accuracy than the powerhouse performances of its three leads. Though it's impossible to erase memories of their famous predecessors, this cast does a more than capable job of delivering Webber's most complex score, even if some subtlety is lost along the way. Caroline Bowman is a force of nature in the title role, dancing breathlessly through "Buenos Aires" and going full Patti Lupone on the voice-wrecking high notes in "A New Argentina." The intensity of her ambition initially appeared gratingly overdone from the front orchestra (though I'm sure it looked great from the balcony), though she finds welcome notes of vulnerability in the second act. As her narrator/foil Che (an Argentinian everyman here, instead of the revolutionary Guevara), Josh Young splits the difference between Mandy Patinkin's theatricality and Colm Wilkinson's earthiness, letting us glimpse the self-righteous anger underneath his impish irony. Sean MacLaughlin may be my favorite member of the trio; he has less gravitas than Jonathan Price and seems more chillingly callow in his climb to power, but sings his melodies as fluidly as Bob Gunton without the cartoonish Spanish accent. The ensemble is exceptional as expected, especially Krystina Alabado's heartbreaking "Another Suitcase in Another Hall," (staged to imply that the place she's "going to" is a brothel).
This may sound like blasphemy to hardcore Broadway fans, but my favorite interpretation of Eva Peron's fictionalized biography is Alan Parker's controversial 1996 film adaptation, so I was pleased to see how many echoes of that version director Michael Grandage has included in this production, starting with the silent dancing mourners during the opening announcement of Eva's death, and continuing through the projected newsreel footage in "Rainbow Tour"; even the interpolation of "You Must Love Me," a sentimental second-act ballad written to make Madonna seem more likable, is integrated as smoothly as could be expected. In fact, I wouldn't have minded if the score was more faithful to the soundtrack, as the excised-then-restored song "Lady's Got Potential" is absent, and a few key lines are cut (like Eva's quip to Peron's underage mistress, "He's obviously going through some adolescent phase"). The biggest deviation is in the orchestrations, which without a single guitar in the pit lean more towards the softer texture of the original Broadway album, rather than the rock-oriented 1976 concept album. Tempos have also been tinkered with, with formerly propulsive numbers such as "And the Money Kept Rolling In" seeming especially sluggish.
One advantage this tour has over the movie is intelligibility (I'm looking at you, Antonio), with the cast precisely pronouncing their dense lyrics to the point of over-enunciation; paired with a well-balanced sound mix, it makes for a uncommonly pleasant listening experience by Bob Carr standards.
Grandage's direction composes lovely (if sometimes busy) stage pictures with no big surprises, but Rob Ashford's tango-inspired choreography includes some interesting innovations, notably replacing "The Art of the Possible"'s traditional musical-chairs staging with a stylized martial wrestling match. Likewise, designer Christopher Oram's unitary set of tall windows and darkened doorways largely serves a supporting role, but takes center stage during "Don't Cry for Me Argentina" as the iconic balcony extends towards the audience.
Evita fans have been arguing for almost 40 years over which production was the ideal incarnation of the show, so it's unrealistic to expect this one to be perfect. But if you can put aside memories of your all-time favorite Eva (be she Julie, Patti, Elaine, or -- gasp -- Madge) you'll find much in this high-flying production to adore.