Looking to try out a new place 
and 
save a couple bucks? Use your phone dude, it's 2014. We've found five of the best check-in deals going in Orlando right now. Download Foursquare or Yelp! and take advantage of them:
Hawkers brings the Asian roadside nosh indoors
Hawkers brings the Asian roadside nosh indoors
1. Does the phrase "Free summer rolls" make you all tingly? Well, next time you go to Hawkers Asian Street Fare, check in on Yelp! and that's exactly what you'll get. The tingles. Oh, and a free order of summer rolls, which are a perfect precursor to a steamy bowl of Tom Yum or Roti Canai. Just rub it on our face.
2. Next time you get the hankering for a calming cuppa, check out the newbie special at Infusion Tea. On your first Foursquare check-in to the charming tea shop, you'll be treated to a small gelato. While you're there, you won't want to miss the black Assam tea and the banana bread.
3.  If you check in at Beth's Burger Bar via Yelp!, your bill will be 10% less. That means, same delicious burgers, same amazing fries, 10% less cash. And since you're saving money, treat yourself to some frickles.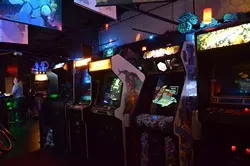 8 great places to get your geek on in Orlando
4. Every time you check in at Player 1 Video Game bar on Foursquare, you'll get a dollar off your first draft beer. With 35 to 40 games for your playing pleasure, there's little chance of boredom while you enjoy your draft. Well, drafts, because it's extremely difficult to settle on just one beer from Player 1's selection.
8 great places to get your geek on in Orlando
5. In keeping with the free alcohol theme, if you check in on Yelp! when you eat at White Wolf Café, you'll get a free glass of wine or beer. If you're not feeling up for an entire meal, their coffee and dessert is not to be missed. Please make sure you wash your hands while you're there too, their salt scrub is super addictive and one of the only reasons our Calendar Editor likes to go to this #ivanhood hot spot.