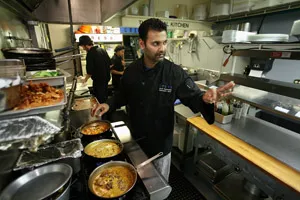 Well, this is just unbelievably cool. Not only are we thrilled that our very own
Hari Pulapaka
(chef of
Cress Restaurant
) is cooking tonight at the
James Beard House,
we can watch him do it! If you've ever wanted to stalk a talented chef in action — without the danger of being stepped on, cut or burned by being in the actual kitchen — here's a nifty way to do it. Unfortunately we can't embed the stream here, but just click the link below:
http://www.jamesbeard.org/kitchen-cam
Tonight's private event features food by not just Pulapaka but also chefs Jeremy Barlow (Tayst, Nashville), Evan Hanczor (Egg and Parish Hall, Brooklyn) and Michel Nischan (Dressing Room, Westport, CT). There's a three-camera setup, so you can watch kitchen, stove or prep-area action. Sez the Beard Foundation: "The kitchen at the James Beard House, where James Beard used to cook for his food-loving friends and hold cooking classes, is where chefs from around the world have come to prepare meals for JBF members, guests, and the general public for over 25 years." Happy hungry viewing!