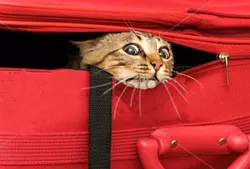 The penalty may have been less severe for this contraband item.
The penalty may have been less severe for this contraband item.
An unfortunate incident at Orlando International Airport yesterday provides a reminder of this classic piece of wisdom: Be sure to double-check your luggage before the TSA screening, or you might leave the airport in cuffs instead of on a plane.
Pennsylvania native Julie Powell, 49, said that the airline lost her luggage when she flew down to visit Florida. So when the time came to fly back home yesterday, her father loaned her his suitcase as a substitute.
Everything was going well until Powell went through the screening checkpoint. A TSA officer scanned the suitcase, and signaled the attention of a nearby Orlando police officer, who looked at the X-ray image before asking who the bag belonged to. Powell, none the wiser, said it was hers, and according to a police report she was "really curious about what was inside the bag" before giving the officer permission to search it. Powell was floored when the officer produced from the side pocket an unloaded Ruger model SR22, a .22 caliber handgun, which, like the suitcase, was owned by her father. Despite the obvious mix-up, Powell had no permit to tote around a pistol, and she was promptly arrested and charged with carrying a concealed firearm. According to the arrest affidavit, bond was set at $5,000.