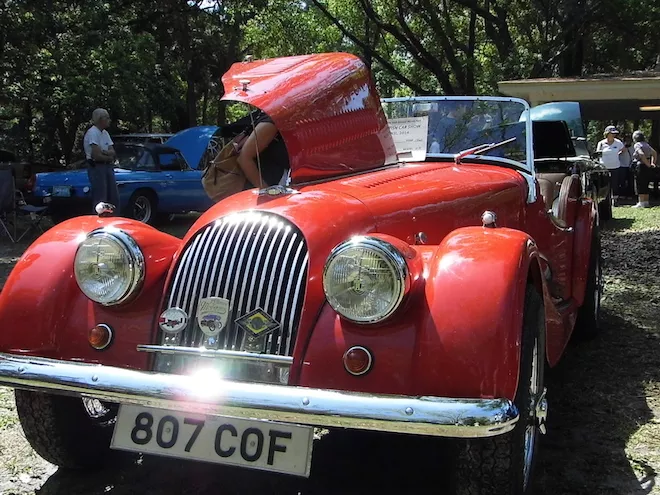 40 classic shots of the All-British Car Show at Mead Garden
40 classic shots of the All-British Car Show at Mead Garden
Within the year, Ace Cafe plans to open a new location in Orlando. It's a location that we here at Orlando Weekly  are quite familiar with, because it's where we used to house our offices! Ace Cafe will be moving into the Harry P. Leu building, which was built in 1926 and currently serves as the meeting space for the H2O church. (It also used to be home to several well-known bars and clubs, including the Edge and 8 Seconds. We weren't actually in the bar/church part of the building, but upstairs in the part that fronts on Livingston Street
which used to be a recording studio, an ad agency, etc. Oh, the history of architecturally significant Orlando buildings.)
The building was specifically chosen for its urban location. "We purposefully stayed away from International Drive because we wanted urban buildings to fit with the Ace brand," said Mark McKee, who is responsible for bringing the Ace brand to the United States.
Like the building it is moving into, the Ace Cafe has a long history of being a favorite gathering place for avid motorcycle and car fans. The first one opened in London in 1938 as a simple 24-hour cafe. It has evolved over the years, adding gas pumps, getting damaged during a World War II air raid, moving away from its original location, closing for almost 30 years and, finally, reopening in its original location in 1997.
The Orlando location will be Ace Cafe's first in the United States. Larger than the London location, it will have over 16,000 square feet of space over three acres that will house a motorcycle dealership, as well as a bar and restaurant. They hope to not only attract local car and motorcycle enthusiasts, but to serve as a destination for travelers from around the world.