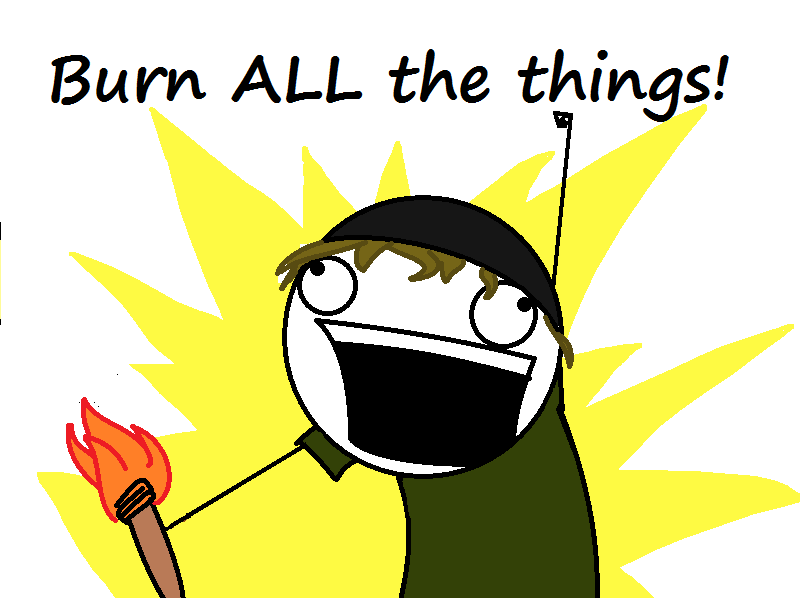 via
Look, I get it. Bugs in your home can be super-annoying. You try everything you can to get rid of them. You clean ALL THE THINGS. You try the hippie remedies like cornmeal, cayenne pepper and white vinegar. Then you bring out the big guns, the poisons. Then, if they don't work, you bring in the professionals. Or, at least, that's what a normal person does.
One unidentified Orlando man skipped all of the logical steps, including the cleaning, when his apartment became infested with bugs. His solution? FIRE. Unable to deal with the bugs in his apartment for one second longer, he felt his only option was to set the bugs ablaze. He didn't think it through very well, though, cause not only did he light the bugs on fire, but his entire apartment.
Naturally, as the fire spread, he freaked out just a little bit and started yelling for help. Luckily, his neighbors heard his pleas and were able to break down his front door and remove him from the burning apartment.  When firefighters were put out the fire, they discovered absolutely "deplorable" living conditions, including "trash and empty beer cans covering the majority of the floor in the living area and the kitchen."
That's no way to keep the bugs away, dude.