Not only is April 12 National Grilled Cheese Day, the entire month of April has been deemed National Grilled Cheese month by some higher grilled cheese power. Not that I'm complaining. I love the hell out of a grilled cheese.
Second only to cornbread on my list of comfort foods, it was my go to food when I was feeling sick or sad as a kid. Paired with the requisite bowl of tomato soup, it really seemed to cure everything. If you're looking to feel a bit of melty cheese comfort or just want to celebrate National Grilled Cheese Day to it's fullest, here are some of our favorite spots in Orlando: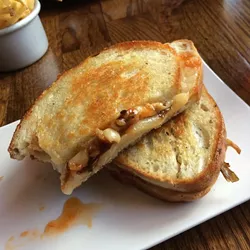 Smiling Bison now open for lunch
Smiling Bison now open for lunch
1. We revisited Smiling Bison last month when they started lunch service. We almost immediately fell head over heels for their "grilled cheese concoction of roasted maitake mushrooms, melty Monterey jack cheese and sweet tomato jam." And the salt-y, vinegar-y shoestring fries are always a mouth-pleaser, no matter what you order with it.
2. If extreme cheese is your thing, you should put Pom Pom's at the top of your National Grilled Cheese Day list.  Their cheese melt lets you choose four slices of cheese toasted between the bread of your choice. And, boy, do they offer some cheese: swiss, munster, brie, and gouda, among others. If all cheese all the time's not your bag, Pom Pom's ham and brie melt counts as a grilled cheese, right? Next year the St. Pete crowd will get the chance to nosh on an extra-cheesy Pom Pom's grilled cheese.
3. So, you're vegan and you still want to celebrate this very important holiday? No worries, man, Toasted's got you covered with their house-made vegan cheese. If fact, they offer a complete vegan menu, with burgers, salads and the aforementioned grilled cheeses. We do have one quibbly complaint for toasted: More cheese, please!
4. If you're not already familiar with Gnarly Barley's delicious menu, let me school you. The menu skews to bar food like nachos and their twist on the French Dip that incorporates mac 'n cheese, but it makes sense, since they offer a widely varied selection of craft brews that I have been hard pressed to find elsewhere. Their grilled cheese is THE reason to visit, though. You can get it with up to five different cheeses, but don't. Get the grilled cheese with straight goat cheese. It's a dollar extra, but utterly worth it.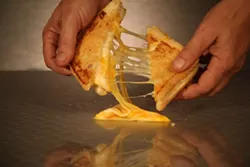 5. If you wanna get your grilled cheese on the go, you could hit up The Big Cheese. We haven't yet had the chance to hit up this truck, but if their menu is to be believed, they offer a Mac 'n Pork sandwich, which is their slow roasted pulled pork and five cheese mac n' cheese toasted with Vidalia onions on Texas Toast. I may need to chase after this truck like a little kid chasing an ice cream truck on the hottest day of the year.
Bonus childhood memory choice: Waffle House. Don't judge me, but there's just something about the institutional cheese shoved between the cheapest white bread available with a side of hashbrowns, scattered, smothered and covered, that reminds me of road trippin' with the family when I was a kid.