Aside from being the very best candy holiday of the year (jellybeans!), Easter's also ripe for getting some good Pinterest time in. And since Easter falls on 4/20 this year, there's a good chance you might come down with a case of the munchies. Here are five Easter treats you can munch on, with just a little bit of pre-planning:
Florida Easters tend to be hot, humid and sticky. That's why these egg shaped popsicles top our treat list. Not only are they super-simple and require minimal ingredients, but you can make them with just about any liquid. We, of course, recommend mixing up a batch of alcoholic egg-shaped pops, like coconut mango white rum or watermelon margarita. If you feel like combining your holidays, you could always make egg-shaped egg nog pops. It's never too early for egg nog, right?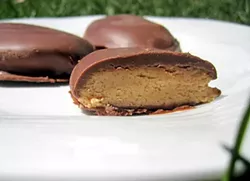 For most people, the king of all Easter treats is the delicious Reese's Egg. The key to the deliciousness of these bad boys is the higher peanut butter to chocolate ratio. Did you know that you can make next level Reese's Eggs at home? Go peanut butter crazy! If you're feeling daring, make 'em with dark chocolate.
These chocolate covered strawberry carrots are ridiculously simple and 100 percent adorable. Basically, add some food coloring to white chocolate to tint it orange and then swirl some ripe strawberries around in it. Super-cute and super-easy.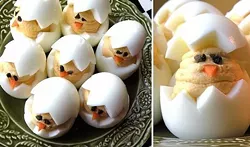 We had to include an entry for those that don't suffer from an Easter sweet tooth. Now, these Easter themed deviled eggs will probably take the patience of a saint, because peeling boiled eggs is a bitch. And then you're expected to cut them into twee shapes and then fill them and put faces on them? Totally worth it, though. Look at them!
And now  an option for the last minute lazy Easter treater. This one takes nothing more than two sharpies and a fruit cup. Go chick wild!