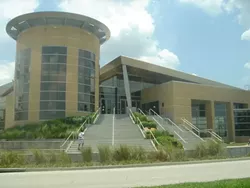 The Bynes Shrine at 4000 Central Florida Blvd, UCF. Image swiped from Wikipedia.
The Bynes Shrine at 4000 Central Florida Blvd, UCF. Image swiped from Wikipedia.
Location Matters is a series that reflects upon pieces of Orlando immortalized in popular film.
Pop quiz, hot shot: when a friend calls you up and says, "Hey, they're filming an Amanda Bynes movie down the street, we can make $75 a piece as extras," what do you do? If it's 2007 and you're me (an unemployed slob), you reply, "What time and do I need to shave?"
2007 was a time when Amanda Bynes could not be counted out as the next Kirsten Dunst; the notion this bright, funny young actress might ever "have a meltdown" or "face a court-ordered conservatorship" seemed unlikely. Sydney White, the project that brought Bynes to Orlando during a spring week when I desperately needed $75, didn't boast an explosively interesting plot (modern day retelling of Snow White, except the seven dwarves are seven collegiate dorks), but people were stoked about the talent involved. In addition to 'Manda, there was director Joe Nussbaum, noted for his creative short George Lucas In Love; cult property heroes Samm Levine (Freaks & Geeks) and Jeremy Howard (Galaxy Quest); and, taking the role of Sydney White's father, none other than John Schneider. In casual conversation, Sydney White sounded like ... well, not a home run, but certainly a rousing triple.
The scene I extra'd in took place in the University of Central Florida's Recreation & Wellness Center, a.k.a. the big-ass gym. I walked behind Bynes several times as she introduced her gaggle of dweebs to the concept of exercise. At least that's what I imagine what was happening. It was difficult to hear the exact dialogue as no one was mic'd and I wasn't supposed to be listening to Bynes anyway. I was supposed to be Anonymous College Gym Member #48. Because I am just impossible, I refused to wear the Champion brand sweatshirt the wardrobe person handed me as extras were herded on set. I put on my Gluecifer hoodie this morning for a goddamn reason, I thought. Tweens everywhere were ignorant of Norwegian rock music, and I had to spread the gospel. This is perhaps why I am not visible in the final cut of Sydney White. Champion was paying to see their logo on my doughy chest, not a skull and crossbones associated with the Thin Lizzy of Oslo.
Walking into the Recreation & Wellness Center you find yourself on a second story ledge that overlooks the spacious first floor of workout equipment. After walking behind Bynes several times on that ledge they moved me down to the first floor because they needed more bodies flexin' and a fussin' with the weights. They may as well have asked me to operate a colonial era loom. Again, you won't see me in those long shots because I'm certain my form with whatever weights I picked up looked criminally insane, like when George Bush dances.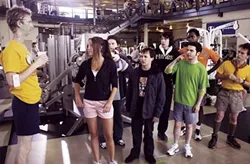 Sydney White and her seven dorks. That's not special effects; she's really that tan in person.
The rest of the Sydney White extra experience was as boring as any other movie extra story you've heard. Lots of standing around, lots of having to be absolutely silent for undisclosed amounts of time, not a lot of great food (we were given plenty of apples to snack on, but they were the super tiny kind, the species of apple only a ladybug would find impressive or filling). It also took a very long time to receive that $75. Like six months, I want to say. That eventually became pretty amusing, how long the wait dragged on for this tiny check from Sydney White, but it was aggravating that week. How the hell was I going to pay for the copy of Skatetown, U.S.A. I overbid for and won on eBay?
I guess it was all worth it for the brief moment Amanda Bynes and I locked eyes. She gave a firm head nod. I reciprocated. She seemed fairly even keeled to me. Samm Levine struck me as very tired and somewhat annoyed between takes, but he was still plenty nice to us peasants. Made chit chat, hung around. Sadly I did not encounter John Schneider, so all my Christmas Comes to Willow Creek questions remain unanswered.
Sydney White was ravaged by critics upon its September 2007 release. A.V. Club declared the film "brain dead" and tagged it with an F; terms like "contrived," cheesy" and "cringe-worthy" peppered Austin Chronicle's one-and-a-half star review. The drubbing forced Bynes to step back; her next several roles were supporting, not starring, in movies such as Canned and Easy A. Not long after, the poor girl's personal problems ramped up. Nutty tweets, nuttier wig, occasional bong-smashing. Today we wait with baited breath for a Drew Barrymore-esque comeback.
All the while, UCF's Recreation & Wellness Center has stood proud, as it does today, a wonderful relic from the tail end of BGA (Bynes Golden Age). You probably have to be a student to swim in their pool or use their elliptical machines, but I doubt the RWC staff would complain if visitors showed up for brief reflection upon/worship of the Sydney White gym (DISCLAIMER: the RWC staff may actually detest Sydney White-related traffic; please call before going).