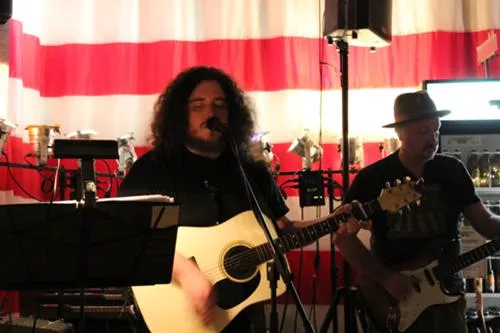 Jackson and Forest Rodgers at Orlando Brewing
Jackson and Forest Rodgers at Orlando Brewing
A couple weekends ago, the Imperial in Sanford won us over for putting fire in our cheeks after a feast at Willow Tree and some record-digging at Rabbitfoot Records, but this week, it's the original location's turn. The Imperial at Washburn Imports on Orange Avenue is hosting free music nights every Wednesday from 9 p.m. to midnight, which means you can see some great local talent playing acoustic tunes while you sip from their fancy wine and beer menus. Bonus: There will be snacks. This week's music comes from Jackson and Forest Rodgers (RSVP), a duo who our live music reviewer Bao Le-Huu practically demands be seen by more people:
"... the American twang of local Jackson Rodgers stood out. Backed on electric lead guitar and mandolin by his multi-instrumentalist father (Forest Rodgers), who added welcome depth and dimension to the music, he played a nice set of wide-swinging roots rock with very natural melodies that could sit on the same porch alongside Austin Lucas' sweet country gospel. With songs this good, this is definitely a guy who shouldn't be strumming away in obscurity. No, this is music that should be punched up, filled out and presented to more serious Americana crowds."
This series, dubbed "Acoustic Soundcheck," is put on by the Modern Music Movement, who you should probably follow on Facebook if you wanna stay in the know about their upcoming music events (and ya probably do). There's no cover, and there never will be a cover. If you want suggestions to make a day of your trip to this favorite Orlando stretch of Orange Avenue, why not stop by Rock 'n Roll Heaven before enjoying one of the locally-themed pies at Wolfie's Pizzamia?