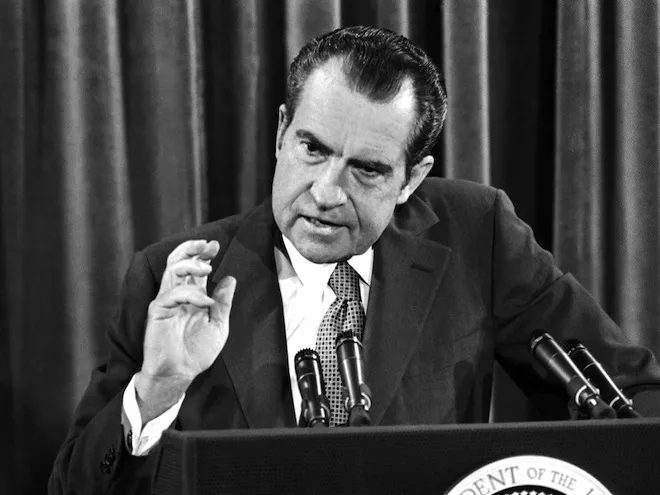 Richard Nixon died today in 1994, four days after a massive stroke crippled the former president in his New Jersey home. The 81 year-old Nixon was one of the few heads of U.S. state not to lie in repose at the Capital Rotunda. This was in accordance with his own wishes; the disgraced presisdent apparently figured his enemies would find some way to block proper federal funeral honors, so he wrote into his will not to bother taking his corpse to Washington. Tricky Dick: paranoid to the end.
It's oft forgotten that Orlando was the back drop for one of Nixon's most Nixonian moments: on November 17, 1973, while fielding questions at Disney's Contemporary Resort (which was hosting the Annual Convention of The Associated Press Managing Editors Association), the embattled president capped off a lengthy response to a query about the deepening Watergate scandal by firmly stating, "I'm not a crook. I've earned everything I've got." This infamous quote did little to quell the storm against Nixon and his corrupt administration. Nine months later, Richard Nixon became the first (and only) president to resign from office, retreating into the shadows like a semi-vanquished Batman villain.
Today we try to look at Nixon in a slightly forgiving light. Sure, he was a neurotic imperialist who lied about tons of stuff he really didn't have to lie about, but he also opened relations with China, ramped down our arms race with the Soviets, and took major steps to reverse decades of Native American mistreatment. Richard Nixon also got the Environmental Protection Agency off the ground, something that still seems implausible based on what else we know about this man. And yet there is evidence of Nixon's conservation agenda even in the same transcript where his "crook" quotable originates. During that same press conference at the Contemporary Resort Nixon remarked to reporters that he had traveled to Orlando that day with just one plane, Air Force One, nixing the backup craft that usually accompanied the Commander in Chief in case of emergency. This decision allegedly cut the cost of the trip in half.
"Secret Service didn't like it, Communications didn't like it, but I don't need a backup plane," Nixon said before adding some of his typically clunky and misplaced humor. "If this one goes down, it goes down--and then they don't have to impeach."