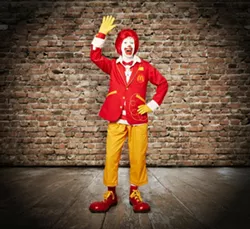 via
This week, McDonald's revealed a new look for its brand ambassador, Ronald McDonald. Call it Extreme Makeover: Fast Food Edition.
He's ditched the jumpsuit, because that was soooo '80s. And the weird, puffy hips made him look a little bit like an tall, pasty Oompa Loompa. Oh, don't get us wrong – he's still pasty with a headful of blindingly-red hair. Someone may have slipped him some product, though, because the hair looks a little tamer than before.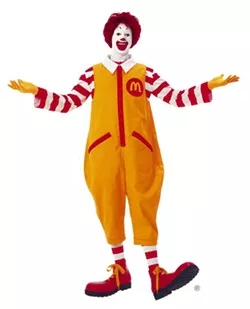 Now, Ronald's trying to make highwaters hip. His new pants (which McDonald's is trying to pass off as cargo pants) are in that weird all-wrong netherworld of being not long enough to be called pants, but too long to be called shorts. Are they trying to make capris happen again? Stick to fast food, McD's.
For special occasions, he's got a red blazer (which McDonald's calls "whimsical") with yellow piping that he can don over his fashionable striped rugby shirt. And a bow tie, because, you know, fancy. The shoes haven't changed much, still resembling over-sized oxblood Doc Martens with yellow ribbon-laces. He can't get away from the gloves and striped socks, either. Actually, it's too bad the pants aren't just a bit shorter. The striped socks are so festive!
In addition to his new look, Ronald also scored a new job. He'll be the official McDonald's social media spokes-clown. According to McD's, he'll be encouraging fans to engage with him using the hashtag #RonaldMcDonald. "Selfies ...here I come!" he's quoted as saying in the company press release.
While the new Ronald McDonald is decidedly creepy, he's got nothing on the first-ever appearance of the mascot. Nice cup nose, Ronald.