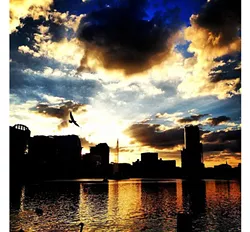 Only one United States tourist destination can reign supreme as the most visited city in the United States. The 2013 numbers are in and Orlando is the clear winner with 59 million visitors. We beat out New York City, who didn't do too shabby with 54.3 million visitors.
Florida as a whole had a record breaking 2013, welcoming nearly 95 million visitors to the sunshine state. According to Gov. Rick Scott, "Every 85 visitors to Florida equals one job in our state -- and it is clear that more visitors to the Sunshine State means more jobs for Florida families." So, using Scott's math, we should have at least a million new jobs, right?
Visit Orlando president and CEO George Aguel gave most of the credit to marketing efforts, saying "Thanks to the strong global marketing and sales efforts of our team at Visit Orlando and the leadership of our tourism members and community leaders who share a common vision for our destination, Orlando continues to lead the nation as its most-visited destination." If you live in Orlando, you realize that there's more to our record-breaking year of visitors than good sales and marketing.
Of course, the first thing that comes to mind are the theme parks. Between Universal, Disney and Sea World, they can keep tourists busy for weeks. In fact, the resorts have so much to offer that visitors to Orlando sometimes never even leave the theme park properties. And, after seeing Universal's new Cabana Bay Resort, we can hardly blame them.
The tourists that venture off-property are the ones who really get the best of Orlando. Looking for an off-the-wall beer? One of our craft beer bars has got you covered. We're also home to the longest running International Fringe Festival in the United States. And the food! Orlando has really become a hotbox of foodies.
Look, we don't need to sell you on the place. You live here. We just wanted to take this opportunity to pat Orlando on the back for beating out New York in the tourist race. Hooray, Orlando!