"Exploring the fine line between figurative narratives, reverie and the familiarity of reality resembling a dream. Curated by Patrick and Holly Kahn, the exhibit features the works of eight nationally renowned fine art photographers, along with sculpture, origami and jewelry." - Snap! Space
We may not be able to tell you exactly what that means, but what we do know is that this show, opening Friday, May 2, is not to be missed.  Edge of a Dream features work from 15 artists, like Tom Chambers from Virginia, who sketches out his photos ahead of time and then photo-montages different shots together to create fantasy-scapes of seamless beauty. Heather Evans Smith, from North Carolina, and her haunting series The Heart and the Heavy, inspired by the sometimes-overwhelming emotions that come with parenthood. Not to mention the iconographic and sculptural work of Chris Scala, Blair Sligar's exquisite woodworking, Rebecca Rose's Sculpturings  okay we're just listing things now. There's music by resident DJ Nigel John (he's playing with Questlove soon, so he's kind of a big deal) and cocktails by The Courtesy Bar.
It's free to attend but be sure to RSVP through eventbrite.com via Snap's Facebook event page so you don't have to wait next door for your turn to get into the show – the gallery space can only fit so many people, and everyone's going to be there.
Check out some of the work that will be on display:
'Brainstorm' by
Thomas Dodd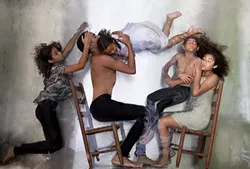 'Gilbert Family and Jamison' by
Wendy Sacks
'Penants Over Pienza' by
Tom Chambers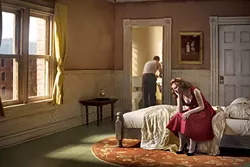 'Daydream' by
Richard Tuschman
'Windowseat' by
Richard Tuschman