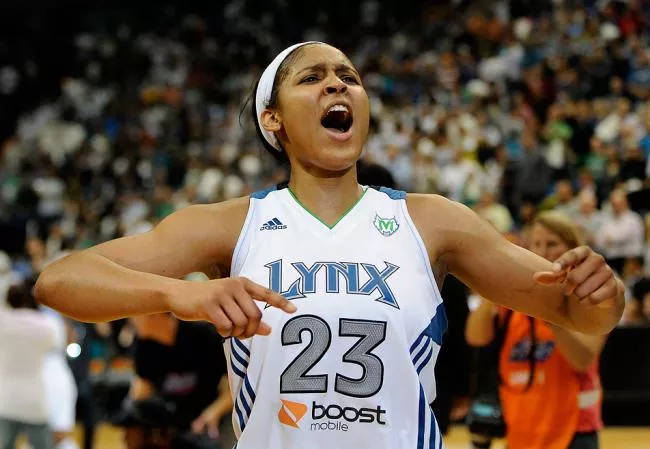 Maya Moore of the Minnesota Lynx after they won the 2011 game against the Atlanta Dream during the WNBA finals. (Credit: mprnews.org)
Maya Moore of the Minnesota Lynx after they won the 2011 game against the Atlanta Dream during the WNBA finals. (Credit: mprnews.org)
The HP Field House at Walt Disney's ESPN Wide World of Sports is getting some play on May 9, when four WNBA teams dribble it out to see who will become the winner of the Mother's Day event. Kissimmee will see teams from Chicago, Indiana, Phoenix and Minnesota come together and play ball.
Now, the Chicago Sky will come up against their rival, the Indiana Fever, on the first night of the preseason. Let's hope last year's injuries have all healed up, so our girls can give it their all in May.
Can the Sky come back after the Fever beat them 85-72 in one game on Sept. 26, 2013, then another the same week on Sept. 29? (72-65)
Following the Sky-Fever game, two Western Conference teams (Minnesota Lynx and Phoenix Mercury) will go head-to-head in the second game of the preseason.
In 2011, the Lynx beat the Mercury twice during the Western Conference; first 95-67, then 103-86. Maybe this time around, the Mercury will take the Lynx down and show them they are worth contending with in future games.
The winners of the opening games on Friday will meet in a championship game on May 11, at noon. The other two teams will compete in a consolation game at 9:30 a.m., prior to Sunday's game. There will also be All-Star clinics taking place to properly assess players before each game and players and coaches will also be available for autographs during this time.
What: WNBA Preseason Games
Where: ESPN Wide World of Sports HP Field House, 800 Victory Way, Kissimmee
When: May 9 - 11
Price: $20-$35