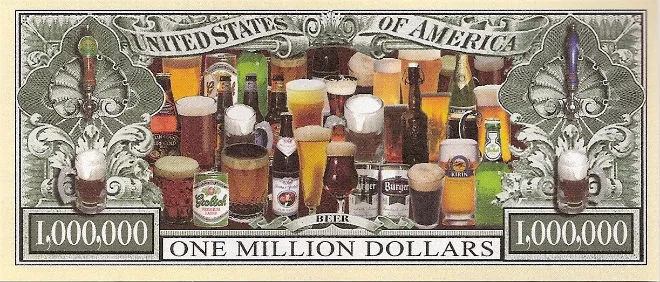 via
Today is the day that SB 1714 gets a vote on the Florida Senate floor. Plenty of uproar has been made about the so-called "Growler Bill" in recent weeks. Most recently, Joey Redner, owner of Tampa's Cigar City Brewing, stated that if the bill passes, he will consider moving his super-popular brewery to another state. He then went on MSNBC's The Ed Show, where Ed Schultz demonstrated that he doesn't know how to pour a beer while commenting on the disconnect between stated Republican philosophy (pro-small business, anti-government interference, free-market capitalism rah!) and the aims of this bill. Looks like the $51,500 that the beer distribution industry has spent on the campaigns of members of the Rules Committee has been money well-spent.
But how does that money break down locally? We looked at the monthly campaign finance reports of Central Florida's local state senators – the ones who had that information available, that is – to see who's drinking from the golden tap of the macrobreweries and distributors. The answer is, well, everyone.
District 8 - Dorothy Hukill (R-Port Orange): $2,500 since July 2013; $2,000 this year.
District 10 - David Simmons (R-Altamonte Springs): $2,500 since February 2013; $0 this year.
District 11 - Alan Hays (R-Umatilla): $1,000 since November 2013; $500 this year.
District 12: Geraldine Thompson (D-Orlando): $3,000 since June 2013; $500 this year.
District 13: Andy Gardiner (R-Orlando): No information available.
District 14: Darren Soto (D-Kissimmee): $1,500 since July 2013; $0 this year.
District 15: Kelli Stargel (R-Lakeland): $5,500 since November 2013; $4,500 this year. (No surprise here. Stargel is the sponsor of the bill.)
Of course, just because a politician accepts a check doesn't necessarily mean that they'll vote in favor of the person or corporation that cut it. Senator Jack Latvala (R-Tampa) voted against the bill in the Rules Committee last Monday (April 21) even after Gold Coast Distribution Company threw $500 at him last month, after all. But don't worry: We'll let you know how our local state senators vote on the bill later this afternoon.
 UPDATE: SB 1714 was amended today in a way that might actually make everyone happy (wait, what?). As amended, the bill now allows for 32-, 64- and 128-ounce growlers to be sold at any brewery. Breweries producing less than 1,000 barrels (2,000 kegs) of beer annually will be able to package and sell their beer without being forced to go through a distributor. For those breweries producing more than 1,000 barrels of beer, they will still be allowed to package and sell their beer from their brewery, but only up to 20 percent of their entire annual product may be sold that way. The rest of their packaged beer must go through a distributor. Sen. Kelli Stargel (R-Lakeland), the sponsor of the bill and the amendment, used Cigar City Brewing as an example and said that about 5 percent of their product is sold directly to the consumer. 
Could this be peace in our time? The bill is scheduled for its third reading and a vote later this week.