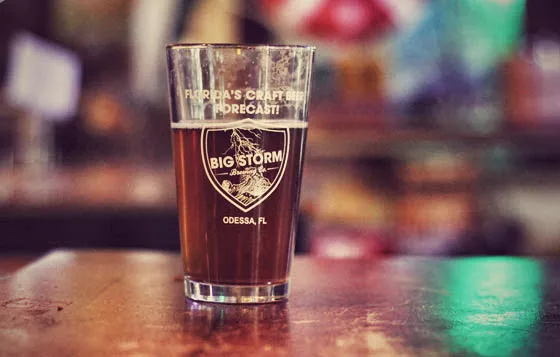 via
On Thursday, May 1 Rogue Pub is kicking off a new feature they call "Homegrown Thursday." The event, which they are hoping to hold monthly, aims to be a celebration of local talent, featuring everything from comedians to musicians. In addition to the run-of-the-mill open mic regulars, Rogue Pub has put out the call to original and unusual local talent. So, if you're a juggling ventriloquist who performs while riding a unicycle and drinking a beer, this open mic might be for you.
The best local talent they're celebrating? Florida beer. At their very first installment of this series, Rogue will be featuring Odessa, Fla. brewery Big Storm Brewing Co. The Brewery was founded in 2011 by two friends with a passion for beer. They've now grown into a brewery that offers three year-round ales, including the Palmbender Pale Ale, an ideal pool-drinking beer, and the Arcus IPA, which is brewed with local honey. Right now they're also offering two seasonal brews, the Low Pressure Session IPA, brewed with six different varieties of hops and the Water Spout Milk Stout, served on nitro. At Thursday's event, one of the founders will be on hand with some ales fresh from the brewery.
In addition to the featured Big Storm Brewery taps, you can drink any one of Rogue's 300 craft beers. If you have a hankerin' for some bite with your alcohol, we can't recommend Gingerbeard enough. Rogue seems to be the only local place we can find this literal ginger beer.
The details:
Homegrown Thursday at Rogue Pub
When: Thursday, May 1, 8:00 p.m.
Where: Rogue Pub, 3076 Curry Ford Road