Whether you want to call it pixel art or 8 bit art, Richard J. Evans of Birmingham, has done something really cool, reducing these stills from the films of Studio Ghibli down to their pixelated essence: Totoro standing at the bus stop in the rain, Kiki making a delivery, Fio and Porco being awkward.
Though they don't cover every Ghibli film, the pieces do span the run of the studio's existence (and even touch slightly before with a Nausicaa piece), covering the works of directors Hayao Miyazaki, Isao Takahata, Hiroyuki Morita and Goro Miyazaki.
Some films are represented more than once, like Spirited Away, the biggest film in the studio's history (and in Japanese box office history), represented three times.
Here are a few of the best, but check out Evans's Behance page to see the whole series.
Protip: these will look better viewed on your phone, or sitting farther away from your monitor.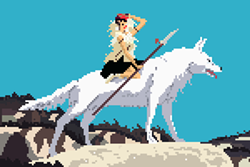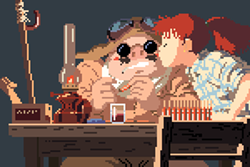 [h/t: wired]