'Paradise Lost,' by Janae Corrado
'Paradise Lost,' by Janae Corrado So, in this week's issue we feature 
50 Shades of Pink
as a Selection –
take a look here
to read more about the show – but after I'd already filed my copy, painter and show organizer
Morgan Wilson
got back to me with some more thoughts about the show.
50 Shades
, "a tribute to all things that flush with desire," opens at The Falcon, 819 E. Washington St., at 8 p.m. Saturday, May 3. Generally, I'd let the piece stand on its own, but Wilson had some thoughtful/provocative things to say, and they might just pique your desire to see this show, if you weren't already into it. If you think this is just a silly sex-jokey giggle of a show well, it is, but it's more than that. Let Morgan school you:
"The main idea behind the show isn't veiled at all, unlike most of our sexuality.  We never hesitate to point and giggle when things look phallic or vaginal, our favorite way to rib friends is to insult their genitals or sexuality, sex sells because we WANT to buy it, so why can't we take a serious look at our naughty bits? Why is it considered culture to celebrate a reclining nude or a flaccid penis, but inject some blood flow and it becomes crass? Is it that arousal is considered dirty and private? Sex is not something deep-buried, it's always right there under the surface every minute of the day and we force ourselves to act like it isn't. That CAN be a good thing--I definitely don't want to deal with strangers acting out their urges when I'm getting gas, but it's not going to stop me from turning the pump into a filthy joke! "I want to create a space where we can all come together and be obvious about it. I hope some people point and laugh, or maybe get turned on, but at the end of the night I want everyone to be a little more comfortable with things like gender and genitals. We all have them, let's show them a little love! This is about the finesse of an artist's hand, not simple pornography. The themes some of these artists are taking on range from hilariously detailed desktop doodles to deep and cultural. There is a conversation about gender going on all over the country right now, and why shouldn't we join it? "It's hard to ignore the fact that no one wants to directly address the issues with gender and equality that stem from a sort of unease that comes with the physical implications. Even an open mind can struggle with some of the finer points of human sexuality. And thats OK! It's OK to be uncertain and have questions, and I want to get people talking."
So there you have it from the mind of Morgan herself. If you make it out to the opening, Wilson says, vendor Sassy Snatch Scrubs will also be there with "her usual punny wares but also some special vagina soaps just for this show. I hope she brings her Sack Scrub and Chocolate Starfish lotion!" Wilson signs off by saying, "I want everyone to be glad they came." The girl can't help it.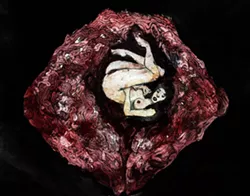 "Rosa Decidua," by Brandon Geurts
"Rosa Decidua," by Brandon Geurts
cross-stitched "Off White Oral" series by Ellen Schinderman
cross-stitched "Off White Oral" series by Ellen Schinderman
Silversmith Rebecca Rose has work in the show as well. She posted the below image of her "Fingering," a wearable piece of sterling-silver art jewelry, with this description: "Inspired by overly sexualized Georgia O'Keeffe paintings, 'Fingering' allows the wearer to insert their fingers into flower petals from the front, and shapes made from a mold of the artist's mouth on the reverse. The top petal includes a sterilized Queen Christina piercing worn by the artist during the years 2003-2005." All I can say is, this show is gonna be a ball.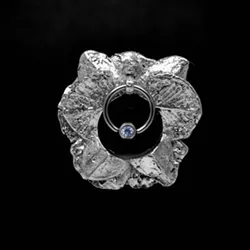 "Fingering," by Rebecca Rose, 2014
"Fingering," by Rebecca Rose, 2014