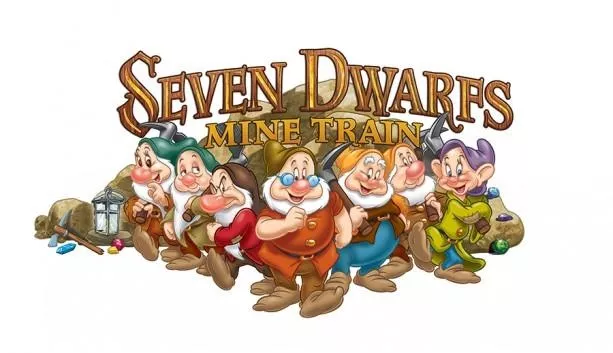 via
Last weekend, Disney World's Magic Kingdom took down the construction walls hiding the forthcoming Seven Dwarfs Mine Train ride, opening May 28.
The ride is an effort to continue expanding the New Fantasyland area of the theme park. In true Disney fashion, the ride appears to be a breezy roller coaster through forested man-made hills and mine tunnels with guest appearances by the dwarfs themselves in the form of a digital-animation-meets-audio-animatronic twist. The ride only requires its riders to be at least 38 inches tall, and that mixed with a number of leaked photos and videos of the coaster circulating, seems to point to something aimed at children and families rather than die-hard, thrill-seeking park hoppers.
Still, excluding shows, parades and all manner of magical sensory overload, Seven Dwarfs Mine Train will be the first moving ride at Magic Kingdom in almost a decade, the last being Stitch's Great Escape! in November 16, 2004.
If you take a look at the following video, there appears to be a lot of detail put into the surrounding area of the coaster itself. Resembling a sort of rustic, Splash Mountain-esque locale, the tracks seem to run right through the surprisingly realistic looking rock faces.
According to Disney World, the path leading to the ride will sport interactive activities, including a touch-screen game of "Jewel Sorting," an apparently cleanliness-obsessed chore of "Jewel Washing" (unclear if real water is involved yet) and visual spectacles of barrels of glowing stones that you can turn to change images shown on the ceiling of the dwarfs' vault. Throughout the ride itself, theme park goers will come across the characters of the seminal classic Snow White and the Seven Dwarfs.
This isn't your typical looped, doing-the-robot animatronic show, though. As a sort of a break away from the stereotypical emotionless animatronics that have adorned so many shows, attractions and rides in all of the Disney theme parks, Seven Dwarfs Mine Train will feature the dwarfs in all of their mechanical glory but with a perk of digitally animated emotion. This video from Disney Parks explains it in more depth, but essentially the Walt Disney Imagineering team collaborated with the Walt Disney Animation team to create this blend of digital and kinetic characters.
Seven Dwarfs Mine Train ride isn't the only new thing coming to Disney World, though. They also introduced the FastPass+ system, a wristband that allows attendees to pre plan their visit to follow a schedule and skip major lines. In fact, Disney seems to have overshadowed the grand opening of this new ride in favor of the FastPass+. But here's to hoping that a theme park's newest attraction outshines the park's newest micro-management system.