FIghting for truth, justice and acceptable weather for shuttle launches.
Location Matters is a series that reflects upon pieces of Orlando immortalized in popular film. Today, the first installment of a sub-series devoted to the 1980s Superboy program that was produced in our fair metropolis.
Much of the Superman mythos is considered common knowledge amongst even the most apathetic of Americans: strange visitor from another world, powers beyond that of humankind, somehow convinces friends and enemies he is two different people via glasses and a clean suit, arch nemesis is bald, died in the early '90s but came back. Poll your average street corner and maybe someone will surprise you with a reference to Bizarro or Krypto the Super Dog. Yet how many people can tell you where Superman went to college? Yes, of course Superman went to college; do you think The Daily Planet just hands out jobs to anyone with a diploma? According to the comics, Supes earned his BA from Kansas State, but four seasons of a syndicated TV show from the '80s posits Clark Kent as a University of Central Florida Golden Knight.
Oh sure, they call it Shuster University in the fictional burg of Shusterville (honoring Superman co-creator Joe Shuster; the college's journalism program is named for other Super-creator Jerry Siegel), but little is done in Alexander and Ilya Salkind's Superboy series to disguise what is familiar about so many as the core cluster of UCF buildings. If it surprises you to learn a nationally syndicated weekly program detailing the early adventures of Superman existed between 1988 and 1992 and was filmed primarily in Orlando, don't feel bad. Warner Bros used their clout and legal power in the early '90s to more or less wipe Superboy from existence in favor of that other (higher budgeted network) Superman year-one show, Lois & Clark.
In Warner Bros' defense, they let the Salkinds ring their Super properties dry for a decade-plus. The father and son team produced 1978's blockbuster Superman film and two of its sequels, and all that success convinced the studio to let this pair develop properties based on other Super characters. After spitting out a Supergirl movie in 1984, the Salkinds birthed Superboy, a peek into the rarely discussed pre-Metropolis years where Clark Kent eases his way into society and superhero-dom. Alex and Ilya decided Clark should matriculate in Orlando and set up shop at Disney's MGM Studios, then still just a production hub. John Haymes Newton landed the title role; Stacy Haiduk co-starred as Lana Lang, Clark's Smallville sweetheart who follows him to college, and Jim Calvert took a role as Superboy's college roommate T.J., a Jimmy Olsen knock-off alleged to be Daily Planet figurehead Perry White's son.
Debuting in October of 1988, Superboy's early entries were dogged for lousy acting, sub-standard effects and cornball plots. In addition to nascent actors (of the three leads, only Jim Calvert had considerable prior experience) the show was also working with a very green crew. The Salkinds had difficulty luring experienced hands to the muggy, uncharted wilds of Florida; in the end, they had to take any warm bodies they could find. Still, the producers managed to secure the same wire effects people from the Superman films, and certainly all of Superboy's take offs/landings look great. As for the actors, they did the best with the material they were given, and who would envy Newton having to put on the suit when it was still warm from Christopher Reeve? That he never completely crumpled is amazing. Some accuse James of too often substituting a sneer for real emotion, but that seems true to the age of the character. If we penalized all college students for masking honesty with snark, death row would be even more overpopulated.
Most of the first season action takes place at UCF, and there's a lot of Clark Kent and his pals walking into, out of, and next to the squat brick buildings that comprised the main campus during the pre-John Hitt years. The library is visible in a few episodes; Clark actually uses his super-breath to knock Lex Luthor into the library's reflecting pond during "The Fixer," as the latter harasses one of Shuster's star basketball players (yes, Lex Luthor attends the same college as Superboy and Lana Lang, complete with his own golf cart and mulleted stooge). In "Back to Oblivian" T.J. argues with Lana and Clark outside one of UCF's geodesic art domes that yes, in fact, the old man who runs Shusterville's junk yard is crazy and does not deserve the benefit of the doubt. A few times we see the interior of Clark and T.J.'s dorm, featuring the familiar UCF off-white wall color and rather narrow hallways.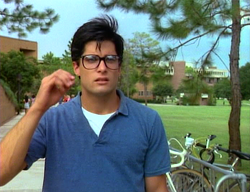 Superboy
could not be contained to Pegasus Circle, though, and the action often spills out into the wilds of Orlando. Realizing it's sort of boring to watch the Kid of Steel zooming over patches of swampland and three-story buildings, the Salkinds occasionally send him downtown, where the Last Son of Krypton soars proudly over the Lake Eola area. The Peabody Hotel (now a Hyatt Regency) is the scene for a couple dust-ups, one of which pits Superboy against trench-coated time travelers from the 24th Century. Speaking of time travel, Doug McClure plays a mad scientist in "Hollywood" who rockets Superboy back to 1939 Los Angeles; substituting for L.A. is of course the Hollywood Boulevard section of Disney's MGM Studios, including their phony Mann's Chinese outside the Great Movie Ride. "Countdown to Nowhere" moves the action to Kennedy Space Center, which is where Superboy makes his
public debut
in this canon.
"I'm not hear to hurt you and your weapons can't harm me," Supes announces as he lands stately in front of pre-launch space shuttle stock footage. Perhaps shocked that he's wearing a wool cape in 90-degree weather, the army stands down.
Lest we forget "Bringing Down the House," the Superboy episode set almost entirely at Boardwalk & Baseball, wherein Leif Garrett plays a barely awake rock star who kidnaps and tortures Lana on a medieval rack so he can sample her screams on his next album. Leif Garrett is always oddly spellbinding, but the truth is there was slightly more drama behind the scenes of this forgotten Super entry. Stacy Haiduk and John Newton dated the entire first season, which reportedly caused tension on set. Newton was also frustrated as Superboy; he felt his pay was not commiserate with being stuck in a harness all day, occasionally bumping into trees and power lines. The Superboy brain trust disagreed, ultimately not giving their star any kind of raise. Also in dispute was some of Newton's behavior off set. Depending on what you read, the actor received one or several DUIs while playing Superboy, allegedly violating a morals clause in his contract. Newton has long been adamant the one traffic citation he received at this time was falsely issued, but admits he had difficulty handling these unexpected problems.
"If I could, I would go back and do things differently," Newton mused in a 2002. "I can't."
John Haymes Newton left the role of Superboy after just 26 episodes.
Lex Luthor actor Scott Wells also vanished after the first season; although official reports are vague, scuttlebutt suggests Wells had serious addiction issues. There are certainly moments in Superboy where his line delivery seems handicapped by some kind of druggy haze - which is a shame, because one of the most fun arcs in the first season is how Lex transforms from an average pompous jerk into the prematurely bald criminal mastermind of the comics. Scott Wells only appeared in one more property (1991's The Taking of Beverly Hills) before dropping off the Hollywood map. According to the Salkinds, Wells was in rehab when they were putting together the Superboy Season One DVD in 2005, and it is only through dumb luck that I can tell you Scott Wells possibly spent time in a mental care facility in 2006.
While working an office job in 2006, my cube mate received a distressing phone call from a childhood friend in Dayton, Ohio, who was threatening suicide. Obviously concerned, my co-worker called this friend's parents, who then sought professional help to intervene. A few days later, the friend called back to say he was doing much better and that the experience wasn't a total downer, for inside the hospital he met TV's Lex Luthor.
I'm not sure how much validity to place in this story coming from a friend of a friend who had serious issues of his own, but who would lie about meeting Scott Wells? Submitted for further approval/disapproval: after recounting this tale publicly in 2009, an unrelated third party informed me Scott Wells had recently been working as a car salesman in his native Ohio and was renowned in the dealership circuit for his odd behavior (although this person did claim Wells expressed some regret for letting drugs ruin his acting career).
Superboy soldiered on with Gerard Christopher in Newton's tights and Sherman Howard as Lex Luthor, continuing to film in/around Orlando. While it seems the world's legions of Super fans prefer the Christopher era of the show, there is a certain charm to the clumsy first season. Stacy Haiduk makes a vivacious and lively Lana who is a great foil for Clark, and as the episodes go on, Newton exhibits more confidence in his Super boots (by the end, the trademark sneer is all but gone). The guest stars are always worth a note, too. It's not clear that Michael J. Pollard ever got a script while portraying infamous fifth dimension imp Mr. Mxtzptlk, but whatever he does works. You want even more of him than Abe Vigoda's unpredictable junk yard owner (who it turns out isn't crazy, just unaware World War II ever ended).
Perhaps the biggest stumbling block for Superboy was his pal in Gotham City; this series had the misfortune of debuting the month that Tim Burton's first Batman movie began filming. The world had been anxiously awaiting a big budget treatment of the Caped Crusader since Adam West hung up the cowl in the 1960s. From October of '88 on, it was a countdown to June '89, every juicy bat-morsel tossed off in a magazine or Entertainment Tonight picked clean until opening day. We'd already had a decade of Superman, but it had been two since we'd seen Batman. There was no need for investment in Clark K: The College Years. Bats was coming.
And yet Superboy also seemed to benefit from the superhero chic Batman ushered in with its release. DC properties suddenly were white hot again, and ratings for the successive Superboy seasons reflected this. Of course, the program itself also got better - enough so that it almost became ground zero for a new Superman film launch.
The key word there is "almost."
Stay tuned for part two of REIGN OF THE ORLANDO SUPERCHILDREN in which we meet new Superboy Gerard Christopher, the kid from Weird Science who isn't Anthony Michael Hall, Gilbert Gottfried's nefarious Nick Knack, and of course, plenty more cameos from Orlando terrain.