Though the two probably share a ton of crossover fans (this guy included), there isn't a huge amount to physically connect Star Wars and Adam Yauch aside from this weekend that the two shared.
Today, May the 4th, is Star Wars day, a reference to the saying from the film applied with a speech impediment.
Yesterday, May 3rd, was MCA Day, two years minus a day since Yauch died. (It was also Free Comic Book Day.)
As expected, the tributes, jokes and remembrances began rolling in promptly, and here are a few of the best ones.
https://www.youtube.com/watch?v=Nt37ppfO0OQ
part of a collection of 40 behind the scenes pictures from all six films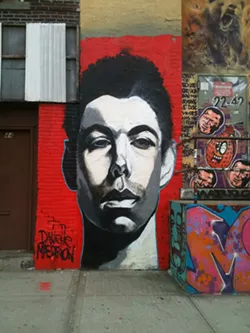 part of a collection of 40 behind the scenes pictures from all six films
https://www.youtube.com/watch?v=JiMyvj0jsLY
https://www.youtube.com/watch?v=UpY4LOWadH8
via, click for big