I didn't get married until I was in my 40s. I had plenty of reasons, and one of the biggest was that I'm just
painfully shy
. For most of my life, the simple idea of asking somebody out on a first date was enough to make me curl up in an inert ball. Why would I put myself out there, knowing that the likely result – a turndown -- would prove that every rotten thing I already thought about myself was not only accurate but readily apparent, even to a perfect stranger? I think I'd rather have
gargled a grenade
.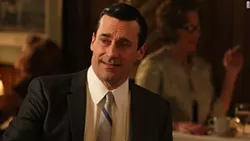 "Feminist agency? Hey, are they hiring?"
"Feminist agency? Hey, are they hiring?"
Believe it or not, there are many people like me out there. We just don't get acknowledged much, because we're pushed out of the public eye by better-adjusted folks who know what they want and go after it with gusto. You know, guys like Don Draper. And Patrick Bateman.
So in theory, I guess I should champion this essay by blogger Aleica Lynn Eberhardt, which was posted last September but gained a new life on social media this week for some reason. In the piece, Eberhardt reveals that her social life is an endless procession of unwanted advances – and that she refuses to sink to that hoary old excuse, "I have a boyfriend," to fend them off.
At its most basic level, Eberhardt's thesis is rock-solid. Why should she have to identify herself as somebody's chattel just to get some peace from a pest who can't take no for an answer? But there are undercurrents to the article that indicate it's really about something vastly different.
If you don't want to wake the douchebear, don't go into the douchecave.
If you don't want to wake the douchebear, don't go into the douchecave.
For one thing, I don't wholly buy Eberhardt's argument that going out at night puts her perpetually in the cross-hairs of guys who "substitute grabbing your hips and attempting to 'dance' with you for a polite introduction)." I've never in my life witnessed an epidemic of such conduct, maybe because none of my friends – female or male – was ever interested in patronizing the sort of establishment where it might be taking place. It isn't victim-shaming to suggest that, if civilized behavior is what you're after, there are better places to look for it than at ladies' night at Club Douchebag.
Even more problematic, Eberhardt reveals that she refuses to use "I have a boyfriend" as an excuse even when it happens to be true (which would make it more of an explanation than an excuse). "[A]n ex-boyfriend of mine used to get cranky that I refused to whip out this cure-all excuse (one of many reasons he is an ex)," she writes. Gee – why would any fella have a problem with a significant other who refused to acknowledge his existence whenever he wasn't in the room? (Maybe he had figured out that said strategy also conveniently left her free to return any advances she did find enticing.)
Seriously – what's the matter with "I have a boyfriend" if that is in fact the reality? It's a polite answer that honors everybody's feelings – even those of the poor schlub who just got shot down. Eberhardt takes pains to establish that she's only referring to annoying, boorish guys -- although, as my responses to some of her other points might indicate, I'm not sure I fully believe her. But the distinction seems to matter little to most of the women –and some men – whom I've seen commenting on the article this week. To them, any guy who approaches a woman he doesn't know, for any reason, is automatically a predator, and deserves nothing but a cold, flat "fuck off."
To posit that this might not always be the case is to bring down a hailstorm of censure. On Facebook, a transsexual steakhouse waitress I've never even met accused me of being in the market for a "pity fuck" simply because I had suggested that "I'm in a relationship" is a kinder response than "No, just no -- and now you can obsess over the possible reasons until you work up the gumption to ever try this again." Clearly, some people's self-image is being threatened here.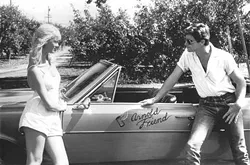 Sweet, sweet Connie, doin' her act.
Sweet, sweet Connie, doin' her act.
And sadly, that self-image seems to be one based on exclusion. Like Connie, the lead character of Joyce Carol Oates' classic short story "Where Are You Going, Where Have You Been?," the Eberhardts of the blogosphere and their upvoters have decided that rejecting people feels good – a lot better than being rejected, that's for sure. And so, whenever one gets the chance, one must remind the world what side of the equation one is on.
This isn't about striking a blow for feminism, nor is it about laying out a template of mutual respect. It's about sacrificing human empathy on the altar of your own narcissism. It's about proving to the multitudes that you're being pursued -- under the pretext of complaining about the pursuer, whose methods are in fact beside the point.
I thought we were past this shit. Throughout the '90s, progressives had to listen as an army of performance artists pored over their sex lives in excruciating detail, all in the name of "making a political statement." I always understood that the real philosophy at work was "The world at large must think of me as someone who is getting laid, and constantly; otherwise, they may merely think of me as someone who is fat." Now, we get the identical self-promotion, but without the sex – just the blithe defusing of same. Progress!
I may never understand why it's so important to some people to seem desirable that they make themselves ugly in the process. On the bright side, I guess it means I'm no longer the most insecure person in the room.
---
Days without a response from the publication that plagiarized from me and won't come clean: 320.
Follow me on Twitter: @Schneider_Stv