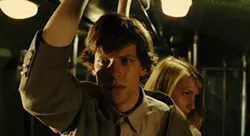 ???? (out of 5 stars)
I have a suspicion that The Double, the second feature by The IT Crowd's Richard Ayoade, will end up being one of the most sneaky films of the year, psychologically speaking. The film, which mixes everything from Dostoevsky and Kafka to Terry Gilliam's Brazil, Hitchcock's Rear Window and Billy Wilder's The Apartment, is the kind of thing that says more about the viewer than it ever could about the artists.
The film stars Jessie Eisenberg and Jessie Eisenberg as Simon James and James Simon, employees at the same faceless bureaucratic conglomerate who look remarkably alike, though no one seems to notice.
Simon is a smart, hard worker who is held back by his timid anonymity; James is a confident, charming social climber who gets ahead by using Simon's work as his own to impress their dipstick boss, Mr Papadopoulos (Wallace Shawn). If they sound like George McFly and Biff Tannen, they're not. Simon is much more of a doormat than George ever was.
Though it gets there quickly, Simon and James's relationship doesn't start out in the dumps. In exchange for doing his work for him, James agrees to help Simon get the attention of his office crush, Hannah (Mia Wasikowska), the cute girl who works in the copy office that Simon admires from afar.
Naturally, she falls for the charismatic James instead of the insubstantial Simon.
And she falls hard.
It's hard to find an aspect of this story that hasn't been picked over at great length in so many indie films in the past that I've lost count at this point. Identity crises and unrequited love -- not to mention visually quoting Billy Wilder and Franz Kafka -- are the motor oil that keeps the indie film machine going, but there is something else going on in The Double too that makes it special.
We're not necessarily asked through cinematic means to side with the painfully lonely and socially awkward Simon, as we usually are in an unrequited love story. He's basically, whether he realizes it or not, a creepy dude who doesn't really deserve Hannah. He spies on her with a telescope and picks through her trash for the artistic scraps that she throws away. Through the lens of the the telescope, Simon should be able to see that Hannah also isn't the manic pixie dream girl he's in love with in his head, but he's such a blank personality that he can't tell the difference.
Nor are we necessarily asked to identify with James, which is where the sneakiness lies. Ayoade keeps his distance from typicality, deflecting the identity question with a free riffing symphony of beautifully deadpan comedy (aided by a great supporting cast of Shawn, Cathy Moriarty, Noah Taylor, Chris O'Dowd, Paddy Considine, and Craig Roberts and Yasmin Paige who played opposite one another in Ayoade's first film Submarine).
Ayoade and co-writer Avi Korine (brother of Harmony Korine) don't seem to hold Simon in contempt, but they don't hold back making him the butt of their film's cosmic joke either. It's an existentially cutting film. Even though we're not manipulated into identifying with either Eisenberg, the divide of love and hate for this film might exist in whether you do or don't. If you do identify with Simon or James, or at least with the central question of the film, it's an insightful film; if you don't, it's a pretentious art school waste of time.
https://www.youtube.com/watch?v=XG8qATRtNuU
Available now to rent on inDemand VOD, Amazon Instant, Google Play and iTunes.