Does a "conscious uncoupling" apartment sound more enticing than a house with an income unit or mother-in-law suite? A real estate agent in Orlando apparently thinks so. In a recent posting on Craigslist, Weichert Realtor/Hallmark Properties posted that it had a
"conscious uncoupling estate in historic Lake Ivanhoe neighborhood"
for sale.
The listing describes a 2,100-square-foot property with a "CONSCIOUS UNCOUPLING - SUITE (formerly known as a mother-in-law suite) in the back." The property, it says, has two buildings – a main house and a smaller unit perfect to accommodate the "modern family trend" of divorced parents trying to raise kids together – one parent can live in the main two-bedroom house with the kids, while the other lives in the apartment out back. Imagine the awkward family adventures you could have trying to make this living arrangement work.
Play passive-aggressive games with your ex by parking your car in the middle of the two-car garage, so his/her car doesn't quite fit: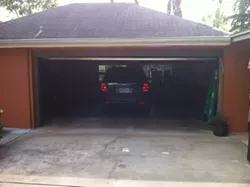 Enjoy awkward family dinners with the kids in the generously sized dining room, while trying not to address the fact that mommy or daddy is dining alone in front of the TV in the apartment out back:
Double date with your ex around the cozy backyard fire pit:
The home has lots of big windows so jealous former spouses can keep an eye on everyone's comings and goings: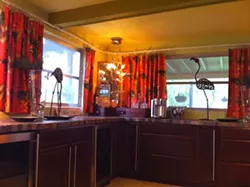 A lifetime of conscious-uncoupling happiness in Orlando could be yours for just $359,000.