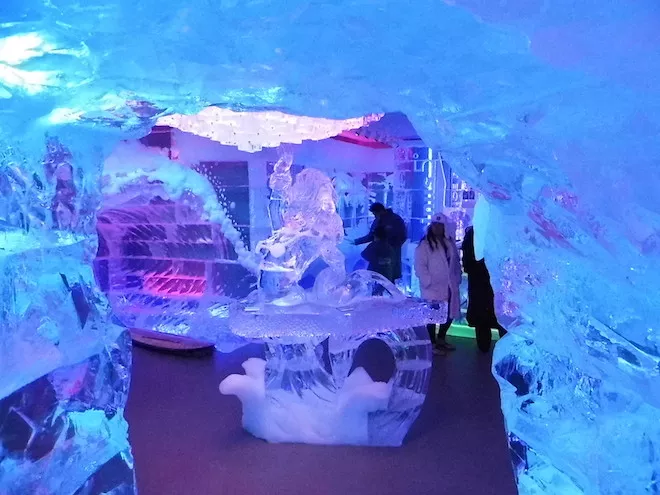 30 frosty shots of Minus5 Ice Bar
30 frosty shots of Minus5 Ice Bar
Earlier this year, we predicted a potential rumble on I-Drive. A new ice-bar chain, called Minus5 Ice Bar, announced that it would open a location at at Pointe Orlando and its concept was pretty much exactly the same as that of an established bar in the same area – ICEBAR Orlando. Both bars promise visitors a chance to sip cocktails from glasses made of ice amid a chiseled, wintry wonderland of ice sculptures. Both offer visitors entry "packages," designed more for a tourist experience than a straight-up bar experience. And both offer to rent you parkas and gloves to keep you from freezing your ass off while hanging out in the icy environment.
In early May, Minus5 finally opened its doors. Owned by a Las Vegas-based company, Minus5 is the fourth ice bar in its chain (the others are located in Las Vegas and Manhattan). We stopped by the new tourist freezer this weekend and were greeted with more than 80 tons of ice, sculpted into everything from penguins to a one-of-a-kind art piece depicting the shuttle on the launch pad at Cape Canaveral. At 2,600 square feet, the ice-bar portion of Orlando's Minus5 is twice as big as that of ICEBAR Orlando. But where ICEBAR offers patrons a lounge (aptly named the Fire Lounge) that's not made of ice and kept at arctic temperatures, once you're committed to drinking at Minus5, you're committed to hanging out in the -5 degree ice room.
Like ICEBAR, don't expect to just walk in the door at Minus5 – it'll cost you $17 for entry (which comes with a parka and gloves) or $37 for entry plus two cocktails. Wanna wear a cute fuzzy Russian hat while you sip on cocktails from glasses made of ice? Spring for the $55 or $75 VIP packages and they're yours to keep, though you'll have to return the fur parka upgrade that comes with that package – that's just a rental.
If you're planning to bring the kids to visit Minus5 (and yes, people do bring their kids here), do it before 9 p.m. After that, it's all grown ups, all the time.
Check out our gallery of photos from our recent visit to Minus5.