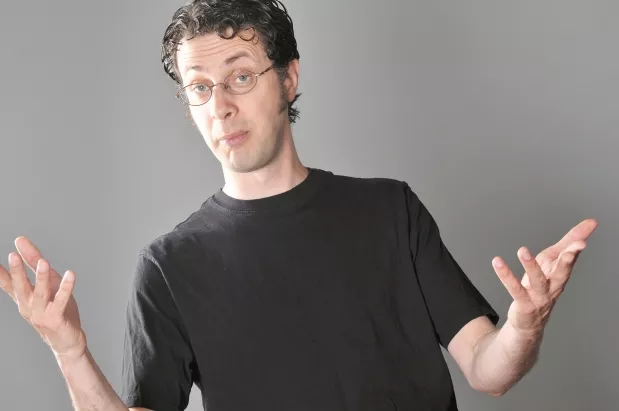 Despite popular opinion, a reviewer goes into a show hoping -- sometimes praying -- it will be good. Walking out of stinker of a show, knowing you're going to have to be honest with your readers, yet not wanting to crush the hearts of artists; it's not fun. Still, a reviewer does go into it with a critic's eye, which for me was a trap in watching T.J. Dawe's Marathon. And I was happy to be caught in it.
"Why in the hell is he referencing one of his past Fringe shows?" I scribbled in my little notebook. What sort of self-aggrandizing ego trip are we in for here?
Dawe is a master storyteller, but more importantly he is a weaver. He takes three threads of seemingly unrelated anecdotes and delicately interlaces them, but delivers the story in a casual manner making it seem like he gets there by happenstance. We hear about Dawe's challenges in high school athletics, his exploration of the Enneagram Personality Test with his girlfriend, and yes, his shows at Orlando Fringe. Taking advice passed along by his father, regarding the secret to running, Dawe "saves it all for the end" and the threads come together.
It turns out referencing his past shows is less self-admiration and more towards self-doubt, for Marathon is a tale about the journey of self-awareness and that tale leads up to the very moment you're experiencing in the theatre with Dawe, right now. You will leave thinking about Dawe, you will leave thinking about yourself (and you will get on your smartphone to Google "Indiagram" and somehow find Enneagram nonetheless).
One word of advice for those experiencing Dawe for the first time, as I was: come rested and save the beer tent for later. This is, at points, dense material that will make you think -- and you don't want to miss a bit of it.
Length: 60
Venue: Yellow
Price: $11 (+svc. Charge)
Disc.: None