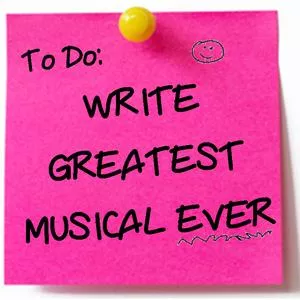 It says something about the quality of a show's performers when they can do a staged reading – and singing – of absolutely nothing for 45 minutes and still produce better entertainment than about half the other shows in Fringe. Yet that's exactly what Orlando stage veteran Kevin Kelly and Fringe newcomer Noel-Marie Berkofsky have done, with more than a little help from writers Tim Evanicki and Esther Daack.
The premise behind The Greatest Musical Never Written by Two Nobodies is that the writers delayed creating their show and, at the last minute, threw together tunes, comedy and re-hashed ideas from productions that either never worked before or previously succeeded in vastly different forms. "Sing along to the familiar standards you've never heard before but wished you'd remembered," the promo claims, "all performed by an epic cast that you've been looking forward to seeing ever since no one has ever mentioned them."
At first glance, it may seem like deconstructionist theatre, an in-joke among the Fringe crowd or even a clever commentary on the festival itself. However, as the show goes on, it's pretty clear that the writers and cast really DID throw this thing together at the final moment, banking on their sheer fabulousness to carry the day. But once you realize that there's simply not much here – an "emperor's new clothes" moment – you also realize you've had a pretty good time.
Berkofsky, a better singer than actor, and Kelly, a slightly better actor than singer, make a solid team, despite their unpolished deliveries – mostly reading from music stands. John R. Mason III provides piano accompaniment while Ned Wilkinson plays guitar and percussion and even steps forward to deliver a number himself ("They found a ghost writer") under the guise – or is it a guise? – that the show is running short and needs filler. But it's writer (and superb singer) Evanicki who steals the spotlight with just one song ("I'll Cast Me"), with Kelly even admitting he's a "scene stealer."
From "Penises are Like Snowflakes" to "Two Holes, One Destiny," to "I'm a Bear Chaser" – no, not a real bear – there is a lot of sexually charged, playful and overly campy material here. There are also hearty laughs and real smarts. Yet one can't help wondering how good this lark could have been if the writers had bothered to create a true show instead of a slightly undercooked cabaret.
The Greatest Musical Never Written by Two Nobodies
Kia Ora Productions – Orlando, FL
Length: 45 (15 minutes shorter than the advertised 60)
Venue: Blue
Price: $10 (+svc. charge)
Disc.: FA | FV
Rating: 13+ – Mild Sexual Themes & Adult Language