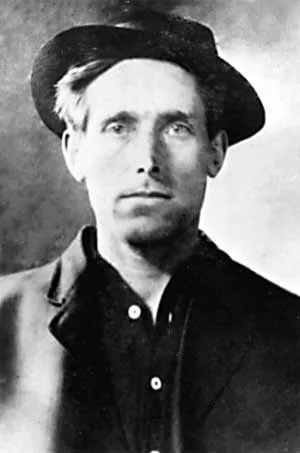 On Thursday, May 15, the air conditioning went out in Fringe's Brown venue due to a crazy thunderstorm that blew through the neighborhood earlier in the day. Before we got our tickets for the show, we were told by someone at the venue that we'd be watching the production under the fluorescent lights because the stage lights would create too much heat in the already warmish air. For a split second, we almost bailed on the show, a two-person production about the history of the labor struggle in the United States. And when the show started with an off-center black-and-white projection of what looked like a the beginning of a history lesson on a screen, I thought we might have made a mistake in deciding to stick it out. But, as is often the case with Fringe shows, sometimes it's the shows with the lowest production values that prove most enlightening.
Tallahassee attorney David H. Abrams and his wife, Barbara, star in Which Side Are You On?, which attempts to put the current state of labor affairs, protests and economic unrest into the broader historical context of the labor movement of the early 20th century. The show, which imagines a casual Q&A-type conversation between a modern-day Occupy protester (played by Barbara) and the ghost of Joe Hill (David Abrams), a migrant laborer, songwriter and I.W.W. union member who traveled the country in the early 1900s agitating for better conditions for workers. The show starts with the Occupy member holding a sign and chanting about the 99 Percent, when a confused Hill wanders inexplicably onto the scene and introduces himself. Naturally, the well-intentioned Occupy protestor has no idea who Hill is (or was), nor has she any idea about the Industrial Workers of the World or any of the labor struggles that shaped the nation. With a few digs at public schools' curriculum, which generally fail to adequately address the labor movement, Hill schools the clueless Occupy member, pointing out that many of the rights workers take for granted today were earned by men and women who were imprisoned, and sometimes killed, to earn them. He pulls out a guitar and sings a few songs from the IWW's Little Red Song Book, engaging the audience to sing along.
By the time the play's 50 minutes comes to an end, the two have discussed (and sung about) the Wobblies and introduced the audience to Lucy Parsons, Mother Jones, Eugene Debs and the real history of Labor Day, and have successfully managed to make the point that, although lots of labor battles have been won, there are still a lot of disturbing parallels to be drawn between the bosses of the past and the bosses of the present.
Fair warning: The script is not sophisticated and there's nothing in the way of character development, plot or action to draw you in. Rather, the play is a little like an old-time skit designed to rally support for a cause, sprinkled with some Pete Seeger-style storytelling. And when Hill gets ready to sing a song, the audience is expected to sing along. Fortunately, the Abrams' enthusiasm for their subject matter is infectious, and after you've listened to the ghost of Joe Hill tell you about the men and women who died to keep kids out of coal mines and to establish the eight-hour workday, you may not mind doing a little call-and-response to the tune of "There Is Power in a Union."
Length: 55 minutes
Venue: Brown
Price: $10
Disc.: None
Rating: 13+