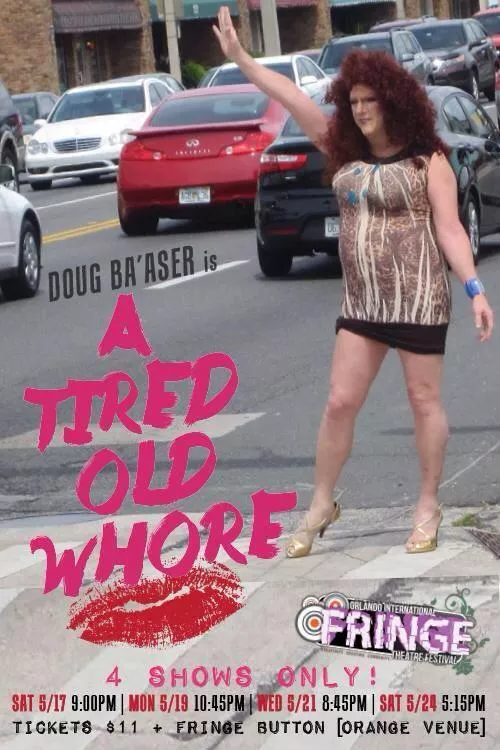 Wearing tight unmatched leopard prints and a giant ginger wig, former prostitute Taffy Pinkerbox made her world premiere theatrical entrance at Orlando Fringe on Saturday to rousing applause. That's not because Taffy just finished servicing an audience member (though he did seem like a satisfied customer); it's because she is the creation of Doug Ba'aser an Orlando theatre veteran who has proven himself dependably funny. Like Taffy, Ba'aser's customers come to him for a good time, and in A Tired Old Whore, they both deliver.
Ba'aser has enlisted an impressive group of Fringe favorites to write material for this show: John Ryan (My Pal Bette), Jeff Jones (Welcome to Hell), David Lee (The Three Pussy Riot Sisters), Michael Wanzie (Lion Queen), and Ba'aser himself. Each writer penned a separate section of the play, which unfortunately causes the show to be uneven; a consistent voice and tone would no doubt make this a stronger piece. Taffy goes from making tasteless jokes about an early lover, a quadriplegic carnie nicknamed Paperweight, to tenderly revealing that her brother is transgender with enough political correctness to make Mister Rogers want to hold her hand. This "arc" could be considered something of a hero's journey (as a costume change to a slightly more subdued hair-do and sequined dress seemed to suggest), but it's hard to accept such character growth occurs in the course of 50 minutes.
That is not to say that Ba'aser and his writers ever lose their audience; the steady hand of director Frank McClain has given the show a solid structure, keeping the piece on track -- he literally provides the framework, appearing onstage as a delightful exaggerated, exasperated version of himself. The sections of the play are nicely transitioned with Taffy performing songs (one of these is a uniquely Orlando song -- no spoilers -- and its inclusion is nothing short of genius).
Always fun to watch, Ba'aser is perhaps at his funniest when performing "booger drag" characters like Taffy. If, in today's gender sensitive world, you're offended by the notion that a man in a dress can be absurd, then you will probably want to spend your Fringe time elsewhere. As for this writer, I'm hoping to run into Miss Pinkerbox often in the future, be it in the theatre or at 33rd Street Jail.
A Tired Old WhoreLength: 50 minutes Venue: Orange Price: $11 Rating: 18 +