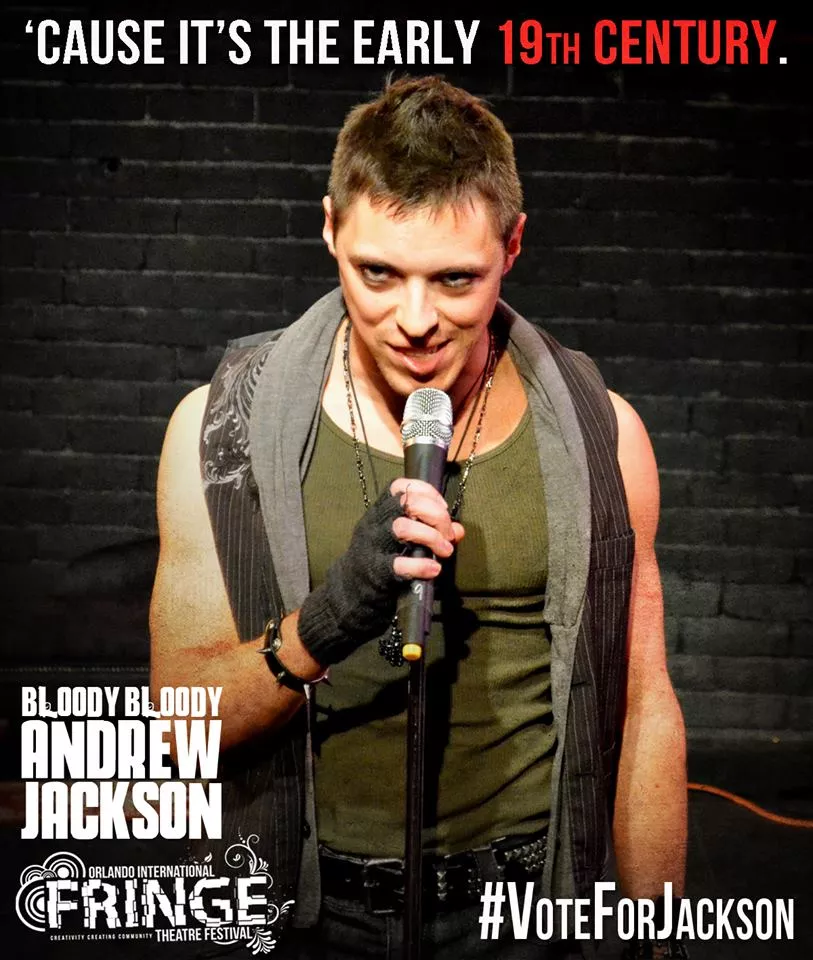 Photo by Julie St. Pierre
Photo by Julie St. Pierre
via
Who knew that our seventh president was such a rockin' badass? Apparently only Alex Timbers and Michael Friedman, the creators of Bloody Bloody Andrew Jackson, which premiered in 2008 in Los Angeles and had a brief Broadway run a couple of years later. This alternatingly muddled, smartly satirical, over-the-top and just plain odd musical has made its way to Orlando Fringe courtesy of By The Way (BTW) Productions and, for good and bad, it's one hell of a politically incorrect romp.
The production reduces Jackson's much-debated life and legacy to 90 minutes of rock & roll revelry. Though the real events of Jackson's life are given more careful regard than you might think, his motivations and emotions (not to mention those of the entire populism movement in the early Democratic Party) are trampled upon in an effort to entertain, amuse and dumb down the sporadically smart satire.
The show is populated with lines such as "This is fucking bullshit" (to describe the 1824 Congressional vote that robbed Jackson of the presidency) and "Life sucks, and my life sucks in particular
I'm Andrew fucking Jackson." By including such language, Timbers and Friedman squander some of their opportunity to create a truly intelligent and meaningful meditation on an exciting, tragic and profoundly complicated time in American history. Also not helping their cause are one too many gay parodies and an unnecessary abundance of sophomoric shenanigans.
Still, the darkly comic commentary shines through occasionally, especially toward the end. We even manage to both enjoy the humor and feel the national and racial heartache when Jackson tells his wife, Rachel, "I love you, but I also have to kill our entire native population." That dialogue is surpassed only by Jackson's brutally honest – and still relevant – speech directly to the "Injuns": "You were here first, but frankly we don't give a shit, and we never will."
Ross Neal, as Jackson, has a hero aura about him and handles a lot of the difficult material about as well as you'd expect from Fringe, while Jacqueline Torgas, as Rachel, exudes a sexy, leading-lady energy and shines in arguably the show's best number, "The Great Compromise," before dying from emotional trauma over her husband's second run for the presidency. (As the characters point out, apparently dropping dead from grief was a common thing in the 19th century.)
The rest of the cast members, under the direction of Adam Graham and musical direction of Brandon Fender, are mostly competent and radiate an infectious energy, although Anitra Pritchard as the storyteller seems intrusive and nonsensical, a fault more of the script than of the actress. The choreography by Michelle Alagna is effective and no doubt extremely difficult in the cramped space of the Green Venue, but the sound mix is sloppy and doesn't help the cast's enunciation, which needs work. Nevertheless, it's refreshing to see live music – in the form of Anthony R. Smith and the band Hey, Angeline – featured so prominently.
Judging by title alone, you probably already know whether this is your cup of blood and don't need this review to guide you. It's both crude and clever, offensive and insightful, and memorable in message yet musically forgettable. In short, it's a mess, but one of the more enjoyable messes of this year's festival.
By the Way Productions (BTW) – Orlando, FL
Length: 90 (no intermission)
Venue: Green
Price: $11 (+svc. charge)
Disc.: FV
Rating: 13+ – Adult Language, Stage Violence & Mild Sexual Humor