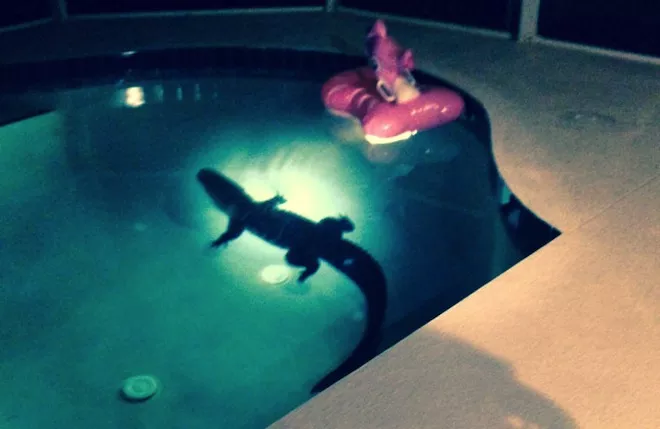 That gator is straight chillaxin'. Photo via WWSB.
That gator is straight chillaxin'. Photo via WWSB.
If you think Florida's alligators fear our generally deforested and chemical-laden human pools, think again. Last Thursday around 4 a.m. Bradenton resident Sharon Bente heard what she thought was the might of a thunderstorm knocking around her pool deck furniture. Upon further investigation Bente discovered an eight foot alligator had torn its way through her screened in porch and was luxuriating in the chlorinated paradise. And he hadn't even rinsed off his feet, so you know he dragged in a ton of muck.
Local authorities called in a trapper, and the gator is now resting comfortably at a farm in Arcadia (and probably bragging to all his friends that he totally punked some human losers and messed up their Thursday). John Bente, Sharon's husband, said the whole ordeal makes for "a fun story" but is hopeful "it just won't happen again."
Scientists have yet to debunk the theory this gator was enticed into the Bente's pool by the bright pink pool toy, which resembles the bushels of cotton candy alligators typically enjoy in the wild.