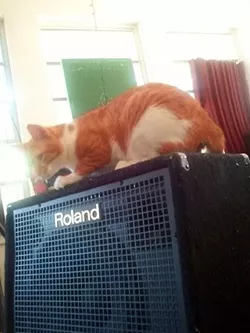 The only thing cats love more than being on the Internet is being on amps. If you've ever lived with a cat and a musician (or are a musician), you've likely seen your kitty perched atop a speaker, luxuriating on that spongy mesh Marshall screen or perhaps more intimately making biscuits on your Peavey. When I lived in the house that served as the Pauses' practice space for a short jaunt, my cat Bernard could frequently be seen rolling around on this Roland and whatever other gear he could get his kitten mittens on.
After checking with musicians who were cat owners, I learned this was not just a special bond between one cat and one band, but a thing, like cats in sinks or cats on turntables. And like every good thing on the Internet, that naturally led to a Tumblr devoted to documenting cats-on-amps culture.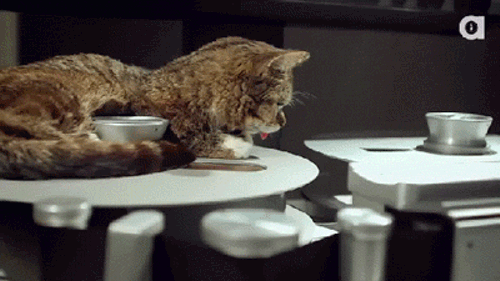 I only came across the Tumblr, though, because local band the Glorious Rebellion (who were just signed to Magnetic Eye Records, congrats!, and have a 7-inch due out soon) recently linked to the Cats on Amps Facebook page (launched in February), already dependably posting pure gold like:
I started going through my Orlando Bands list to see if I could find more local photos, but if you guys have cat-on-amp action, I've yet to sink my claws in them. And since now I wanna know: Bands, send any photos of cats on your amps to abelanger@orlandoweekly.com or comment below, and I'll post your pic with a link to your music. (Or if you have a new release, just link me up. I'm always looking to hear new music.)
For more Orlando Music News updates, follow ashleyedits on Twitter.