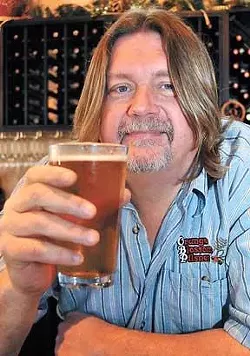 via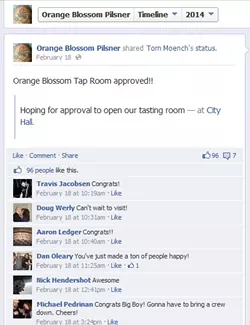 This will come as sad news to many, but the much-anticipated Orange Blossom Pilsner brew pub will not be occupying the space currently being renovated at 1010 Virginia Drive. OBP owner Tom Moench tells us he was "a little premature" in confirming his tap room/brewery would be moving into the space, as we (and others) reported in February and last week.
"We were talking with the folks about working with them on the project but that never panned out," Moench says. He's disappointed, but at the same time excited about moving full production to Brew Hub's new brewing and packaging facility in Lakeland. The move will allow OBP to increase capacity without sacrificing quality (Moench expects its presence to triple over the next 18 months), and to package all of their beer in cans. Brew Hub's state-of-the-art craft brewery will also partner-brew for Cigar City and BJ's Restaurants. Once OBP settles into Brew Hub's operations, Moench says he'll take the time to concentrate on opening a tasting room and retail facility "his way."
We've reached out to Joanne Grant, director of the Mills 50 Main Street district (into which this space falls, we're told, though it's right on the border between Mills 50 and Ivanhoe Village) for comment on what might occupy the space, and we'll keep you updated with new developments.
UPDATE: Pat Goetz of BishopBeale (lessors of the property) tells us that they have secured a lease with 1010 Brewery, but that they are unable to share any details at this time. So, the good news is that there will (probably) be a brew pub of some sort there soon.
UPDATE NO. 2: Joanne Grant of the Mills 50 Main Street District confirms that 1) yes, the building is in Mills 50, and 2) the new pub should be open by August.