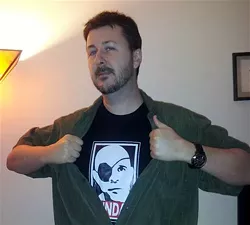 See our gallery of Mystery Fun House photos here.
Welcome to 19 Questions, a feature where we ask longtime Orlando residents 19 questions that are mostly related to living in the City Beautiful.
Bill Platt first came to Orlando from Michigan in 1985 at the age of 10, coming of age in Central Florida's crown jewel before graduating from University High. Bill's been "in and out" of Florida a few times since then; he's been back for the past two and a half years, though, following seven years in exile, split between Illinois and Alabama. He currently works for a large cell phone distribution company as the director of call center logistics.
1. Who's your favorite Orlando resident, living, dead, real or fictional?
Jack Kerouac. Big fan of his work, and I've been to the Kerouac house numerous times. I know he didn't live here that long, but
well, there you go.
2. What's the best meal you've ever eaten in Orlando?
Anything from the White Wolf Cafe down on North Orange. I ended up there one weekend by sheer accident. I remember having a vegetarian spinach lasagna. I'm not even sure if they still have it on the menu ... after that, though, I was hooked. The hummus is pretty darn tasty as well.
3. If you could nuke one theme park off the map, which would it be and why?
Wet n' Wild. I'm not a water park fan, and every time I went I always imagined that I was swimming around in other people's pee. I know it's fun and kids love it, [but] it just seems kinda gross when you sit down and really think about it.
4. What's the last concert you went to in Orlando?
Last concert I attended was the Who at the Amway Center. I've always been a huge fan of the Who and this was without a doubt one of the best shows I've personally been to. I took some friends with me, and we had an absolute blast.
5. Favorite beach in the area?
Cocoa. I have fond memories of fishing with my mom and dad at Jetty Park. While they fished, I would walk the beach down to Ron Jon and just lose myself in the day.
6. What's your favorite Orlando attraction that no longer exists?
Without a doubt, the Mystery Fun House. Every Friday night after work, my co-workers and I would hit the Mill, which had a pretty amazing selection of micro-brew beers. After happy hour ended, we always found ourselves screwing around at the Mystery Fun House for hours.
See our gallery of Mystery Fun House photos here.
7. What do you hate most about living in Orlando?
The heat. As I get older, the harder it is to deal with. I also hate the fact that the Corner Pocket Pool Hall no longer exists. I practically grew up in that place.
8. What do you hate least about living in Orlando?
Theme parks. I totally get why they're needed and support them fully – minus Wet n' Wild, [which is] gross. Plus it's fun being able to take my daughter to do the things I did as a kid.
9. Beefy King: pro or con?
Pro. 100 percent pro. Back in the day, when the Colonial Mall still existed, there was a theater that faced Beefy King. I would either go eat first and then go see a movie, or do a movie and then food.
10. In one word, describe your day job.
Babysitter.
11. What's your favorite coffee spot in Orlando?
I don't really have a favorite coffee spot. My house, I guess. I had a spot I would go to in Chicago but never really found one here that I considered my "go to" place.
12. Do you have an orange juice of choice?
Whichever has the most pulp. I typically pick up Florida's Natural when I'm in the mood for orange juice.
13. SunRail: pro or con?
Pro. I like the idea of having a fast and safe way to travel around Florida. I'm a big supporter of public transportation, and I think this is the right step into a better tomorrow for all Floridians.
14. Have you ever encountered Wayne Brady? If so, what was the circumstance.
I have not. I would like to think that he would be super cool, though, and that I would probably make a really lame joke and reference his skit in Chappelle's Show, causing him to give me a fake laugh and then quickly walk away.
15. 'NSync or Backstreet?
Ohhh, tough call. I lived through both and can honestly say, that if I absolutely had to pick one, 'NSync. Although I do find myself singing, "Backstreet's back, alright!" an awful lot to myself. How about we call it a tie?
16. Delta Burke: underrated, overrated or perfectly rated?
Perfectly rated. I was going to make a crass joke about being "down on the delta" but decided against it.
17. What's the weirdest thing you've ever seen in Orlando?
I've seen a lot of weird stuff in Orlando ... the one thing that always sticks in my mind, though, is not weird. It's sad and honestly pretty devastating. January, 1986. I remember sitting in school at Azalea Park Elementary, fifth grade ... we were all patiently waiting for the Challenger Space Shuttle to launch. Being from Michigan, this was my first time seeing a rocket of any kind, outside of movies, launch. My teacher had informed me that we would have a good view and I was pretty damn excited. When it exploded, I had no idea what was going on. I remember teachers screaming and crying. I was absolutely confused. I went into the classroom, where the live telecast was playing, and remember listening to the reporter describe what had just happened. I can remember that day as if it were yesterday.
18. Tourists: pro or con?
Pro. As much as we all curse and yell at them, they are an enormous piece of the Florida, especially Orlando, puzzle.
19. What makes someone an Orlandoan?
That's a good question. I don't know if I really have an answer. If you remember the Dunes Surf Shop on the corner of 50 and Alafaya, your're an Orlandoan, if you remember the Corner Pocket Pool Hall, you're an Orlandoan, if you remember when the Fashion Square Mall had walls that were absolutely perfect for skateboarding, you're an Orlandoan. If you live here, if you've ever lived here and if you have fond memories of your time here, then you are most definitely, an Orlandoan.