Photo courtesy Orange County Animal Services
Photo courtesy Orange County Animal Services
Yesterday the news broke that Apopka police raided a dog fight in progress at a home on 7th Street in Apopka. As of today, Orange County Animal Services has taken in 34 dogs from the raid, which are receiving medical care for wounds and other health problems. According to a release sent out by the shelter today, Dil Luther, division manager of Orange County Animal Services, says the dogs are doing well and are "able to relax" in their kennels. The animals are all being held as evidence in the dog-fighting case, but when it's over, OCAS will "be petitioning for custody of the animals."
At the time the dogs were brought to the shelter, the facility was already close to capacity, so now OCAS needs your help. If you've ever thought about adopting a dog or cat, the shelter is encouraging you to get to OCAS this weekend to help make room for more animals. OCAS takes in approximately 23,000 animals each year.
"We have many loving dogs and cats looking for families and placing these animals in forever homes would allow us more space to provide comfort for the animals taken in from the cruelty situation," Luther says in the press release.
The shelter is holding a Hot Dogs, Cool Cats adoption promotion on Saturday – standard adoption fees will be dropped to $15, and the shelter will be open until 7 p.m.
For more information about the event visit www.ocnetpets.com.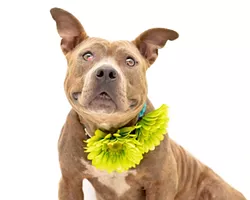 31 super-cute dogs waiting for you at Orange County Animal Services
31 super-cute dogs waiting for you at Orange County Animal Services