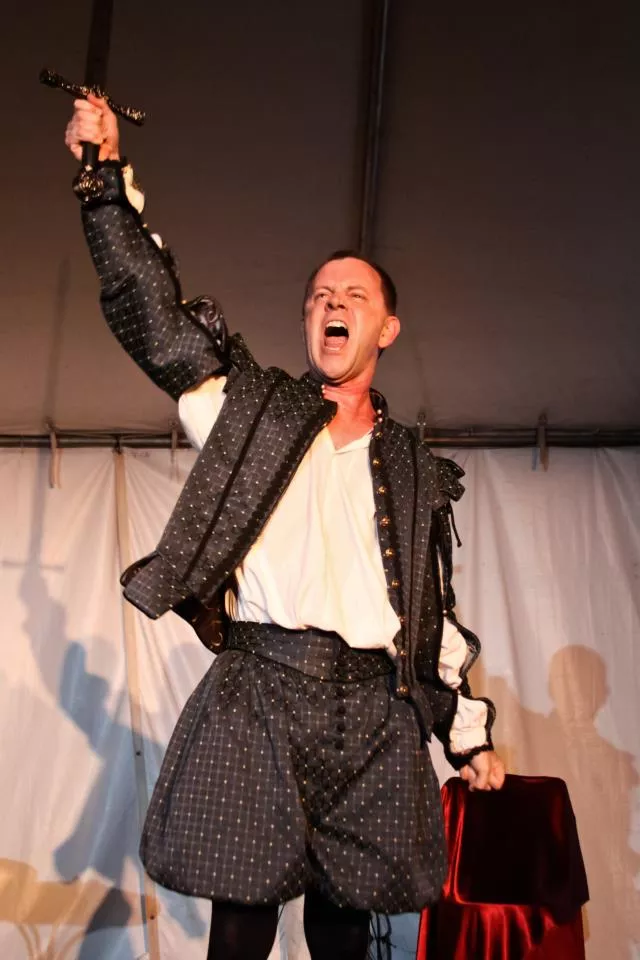 photo by Tisse Mallon from Fringe 2014
photo by Tisse Mallon from Fringe 2014
Great news: Following sold-out shows at this year's Orlando Fringe, Tim Mooney brings Shakespeare's Histories: Ten Epic Plays at a Breakneck Pace back to Orlando with three more shows at Breakthrough Theatre of Winter Park. This was one of our favorite Fringe 2014 shows — you can check out our full review here, where we said: "Timothy Mooney goes HAM on the 10 history plays attributed to William Shakespeare (King John, Richard II, Henry IV parts 1 and 2, Henry V, Henry VI parts 1, 2 and 3, Richard III and Henry VIII) rapidly and deftly explicating the historical and geopolitical background of each play, then delivering choice bits of speeches from the relevant characters.
 Watching Shakespeare's Histories is somewhat like attending one of the most entertaining college-level English lectures ever; this is a man imparting a torrent of knowledge upon you, and it's up to you to drink from the firehose."
This show combines an overview of English history from 1066 to 1533 with potted versions of all 10 of Shakespeare's history plays in an epic one-man, hour-long performance. At the intimate Breakthrough Theatre, with its 45 seats, no one will be more than 15 feet away from the action – which is good, because you do not want to miss a word and Mooney talks fast.
Catch Shakespeare's Histories at Breakthrough Theatre (419A W. Fairbanks Ave., Winter Park; 407-920-4034) 7 p.m. Friday and Saturday, June 13 and 14, and 3 p.m. Sunday, June 15. Tickets are $10.