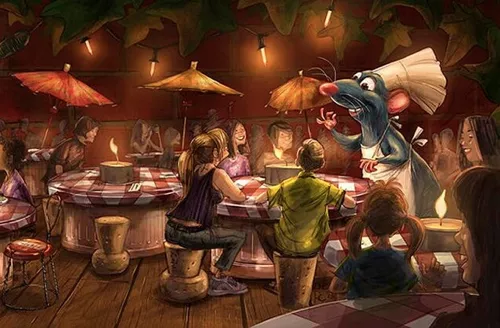 Concept art from new Ratatouille restaurant at Disneyland Paris (image courtesy Disney)
Concept art from new Ratatouille restaurant at Disneyland Paris (image courtesy Disney)
Are you considering a romantic vacation to Paris, but can't stand the thought of being away from Disney rodents? Disneyland Paris will solve your dilema on July 10, when a new Ratatouille land opens at the Walt Disney Studios theme park.
The new Parisian-themed area will be a mini-land adjacent to Toon Studio, and will feature a table-service restaurant (Bistrot Chez Rémy) and indoor dark ride called L'Aventure Totalement Toquée de Rémy (Ratatouille – The Adventure) inspired by the Pixar film about a rat-turned-chef.
The ride will utilize mouse-shaped "trackless" vehicles, similar to those seen in Tokyo Disneyland's Pooh's Hunny Hunt and Hong Kong Disneyland's Mystic Manor, along with overscaled physical sets and high-definition projection domes. Tom Fitzgerald, the Imagineer behind the attraction, was recently put in charge of Epcot, leading to speculation that a copy might be installed in the France pavillion there.
Hopefully, the new attractions will inject so life into the Paris Studios park, which is generally regarded as the world's weakest Disney park and a pale copy of Orlando's Hollywood Studios. The opening comes days before the July 17 debut of The Wizarding World of Harry Potter in Osaka's Universal Studios Japan.
For further updates on Disneyland Paris, check out the excellent website Disney and More.