This Little Underground is Orlando Weekly's music column providing perspective, live reviews and news on the city's music scene. Read the latest column here.
Moonshine Bandits are an abyss of taste
(Steven Foxbury at Will's Pub / photo by Ashley Belanger)
Steven Foxbury has lived in Pittsburgh for practically a decade. I don't know his clout up there but I don't think it's an overreach to say that his legacy is here. An elusively named musician with a long local history under many aliases, he's performed under the monikers Steve Burry, The Battle Sigh and, probably most notably, accomplished late '90s alt-pop band My Friend Steve. Well, he was just back in town and on stage (May 29, Will's Pub).
Foxbury's built a name for open melodies built of heart, wit and sometimes humor. This time, he performed both solo and with – who else? – omnipresent Orlando guitarist Brian Chodorcoff. The spare and simple arrangement brought out a nice, plaintive tenor to his music that showcased his natural singer-songwriter ability in a flatteringly pure state – something that studio polish could, and has, often candy-coated a bit too much. For Foxbury, this more acoustic approach gave his songs some welcome weather and gravity. But perhaps most critically, it spotlighted his vulnerability as a sweet, occasionally askew songwriter.
The fact that this show coincided with the birthday of the late, celebrated Orlando musician Ralph Ameduri only added more local depth and history to the night. Happy birthday, Ralph.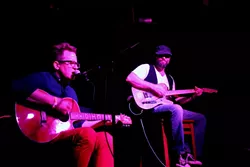 (Steven Foxbury and Brian Chodorcoff at Will's Pub / photo by Ashley Belanger)
(Steven Foxbury at Will's Pub / photo by Ashley Belanger)
Read more This Little Underground: