This Little Underground is Orlando Weekly's music column providing perspective, live reviews and news on the city's music scene. Read the latest column here.
Moonshine Bandits are an abyss of taste
(Matthew Fowler at the Social / photo by James Dechert)
Besides playing, Steven Foxbury, whose Thursday show at Will's Pub I just reviewed here, also happens to own a recording studio (Yellow Couch Studio) and do some artist management. One of his clients is Orlando's Matthew Fowler, a singer-songwriter who just came deluxe with a seven-piece band at his own show downtown (May 31, The Social). A blend of contemporary folk and pop-soul, Fowler's aesthetic can definitely be filed under "soft," "sensitive" and various other words that make me shiver a little. And while it's true that this is the conventionally heartfelt kind of music that you usually have to be either unseasoned or past prime to really get swept by, some of that perhaps can be forgiven by his age. The kid just departed his teens as of midnight at this show, after all. Still, a deeper, more interesting record collection could make all the difference in his world because, while his voice and skills are exceptional, his taste is common. That said, Fowler's natural talent is undeniable and he may just have the stuff to go places.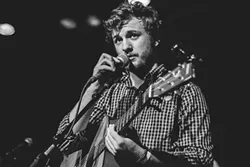 (Matthew Fowler at the Social / photo by James Dechert)
But if you're a little deeper into folk and Americana, opener Austin Miller is someone worth knowing. Rendered by a full band, his folk-rock shined with some authenticity and great stride. But perhaps Miller's great triumph is that his effortlessly flowing songs don't get bogged down in much of anything, especially try-too-hard purism or obliqueness. The result is a well-pitched sound that comes on with little to slow its roll and appeal. It's hard not to like that. And that's why it's time for him to claim a rightful spot as one of the area's best young folk acts.
(Austin Miller at the Social / photo by James Dechert)
Read more This Little Underground: