The end of the week is finally here and you're ready to be done with work and get the weekend started, right? Well, you still have a few hours to kill, so here are some links to help you pass the minutes: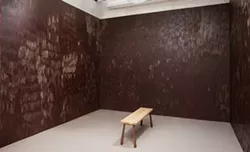 1. In something straight outta Willy Wonka, Scottish artist Anya Galliccio invites visitors to her newest art installation to interact with the dark chocolate walls in any way they choose. Of course, once inside the room, it's impossible to escape looking at or smelling the chocolate room, but she wants guests to go further by touching or, yes, even licking the walls.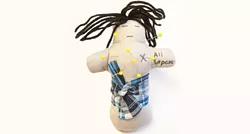 2. So, yeah, it's satisfying as hell to stab the shit out of a voodoo doll dressed like your worst enemy, but did you know there's actual, legitimate science as to why it makes you feel better? Brad Bushman, a social psychologist, gave voodoo dolls to 107 married couples and asked them to start stabbing. Bushman's study looks at the relationship between low blood sugar and aggression levels, as well as how stabbing a voodoo doll is just another form of "magical thinking."
21 Orange Is the New Black GIFs to tide you over before the Season Two premiere
3. This one is completely self-serving, but, you guys, Season two of Orange Is the New Black is sitting there waiting for me on Netflix. ALL 13 EPISODES!!!! The second I bust outta here this evening, I'll be grabbing some binge-ing supplies, sitting my ass on the couch and obsess-watching the entire thing in one sitting. Until then, this gallery of season one GIFs will have to keep me calm.
4. In honor of today being National Donut Day, I couldn't help but include these fantastic donut doubles. Behance, along with ad agency The Marlin Network, put together this series of extremely accurate photographs depicting people and their donut doppelgangers, with help from the delicious folks at Strange Donuts.
5. Wanna go adventuring inside a tree? Or at least something that looks like the roots of a tree? Artist Henrique Oliveira created a massive network of tree roots using recycled wood. They look pretty damn cool from the outside, but the best part is that you can explore the inside of the roots. Look: