This Little Underground is Orlando Weekly's music column providing perspective, live reviews and news on the city's music scene. Read the latest column here.
Clap Your Hands Say Yeah at the Social (photo by James Dechert)
Clap Your Hands Say Yeah at the Social (photo by James Dechert)
Sticking to what you do well is a virtue, especially live. It's a maxim that paid dividends for Brooklyn's Clap Your Hands Say Yeah (June 6, The Social), whose performance skewed heavily toward the more charged and remarkable side of their grand indie-pop sound.
However, it seems Indiana opener Stagnant Pools – a band that I'm very much into – has lost its way a bit. And it showed in this subpar set. But besides an inferior performance, the more worrying part is that the limitations of their design are showing. For a mere duo that's gone all in on guitar sonics, everything lives and dies by tone and song. When even one falters, it all falls down. In their set, the problem was the tone, with the guitar too often being thin and tin. In their new album, Geist, it's the sense of song, which is anemic compared to their excellent 2012 debut LP (Temporary Room). Any band with a narrow effective range – and Stagnant Pools is one of them – requires focus. And, sadly, they've lost a little bit of theirs.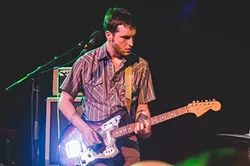 Stagnant Pools at the Social (photo by James Dechert)
Stagnant Pools at the Social (photo by James Dechert)
Freestyle Fest triggers an old flame
Freestyle Fest triggers an old flame