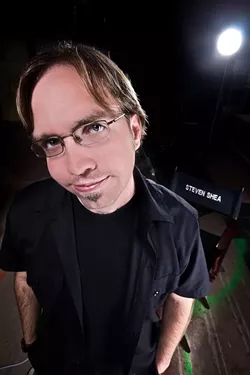 39 celebs who have called Orlando home
Welcome to 19 Questions, a feature where we ask longtime Orlando residents 19 questions that are mostly related to living in the City Beautiful.
Filmmaker/photographer Steven Shea was born in Louisiana, raised in the Florida Keys and has spent the past 15 years living in Jamlando. The Valencia grad owns Abyssmal Entertainment, a local multimedia company focusing on feature and short films, music videos, industrials and events.
1. Who's your favorite Orlando resident, living, dead, real or fictional?
I've gotta throw it back to the 1950s when Anthony Perkins was a resident here, going to Rollins. He starred as Norman Bates in one of my favorite films of all time, Psycho. They always said Florida turns out the crazies.
39 celebs who have called Orlando home
2. What's the best meal you've ever eaten in Orlando?
My favorite meal in town would have to be the Schnitzel, with spatzle and rahm gravy at the Hollerbachs Willow Tree Cafe. The authentic German food is incredible! I do recommend not ordering a Gummitini from the bar, unless you do enjoy being ridiculed. Go for the Boot instead.
3. What's your favorite mall in Orlando and why?
I'd have to go with the Altamonte Mall. It has everything I'd want as a mall rat - a movie theater, a toy store, a book store, a music/dvd store, a Sears, a Hot Topic, a kids play area and, ultimately, a Mrs. Field's Cookie Stand.
4. Jimmy Hula's: pro or con?
I'm totally pro Jimmy Hula's. I'm a big fan of the Pineapple Mango & Creamy Teri on the Luau taco. Plus, the beach blanket bingo environment and open walls make it a gnarly escape from the norm.
5. What's your favorite beach in the area?
My favorite beach in the area is definitely Blizzard Beach. I grew up on the beach in the Keys, and I've had my fill of sand. Blizzard Beach fixes everything I hate about the beach - sand, heat and lack of water slides. Where else in the country can you race toboggans in board shorts?
6. What's your favorite Orlando attraction that no longer exists?
I might have to go with Terror on Church Street. It closed soon after I had moved to Orlando, and I never got to truly experience it with the downtown atmosphere. I couldn't imagine it being there today. They could design it almost like a horrific obstacle course for the zany drunken college crowd, who are already stumbling around downtown each night. Maybe the scares could now be more like, "You have a $45 parking ticket!" or "Sorry, we're at capacity" or "We're out of PBR" or "Last call!"
50 geekiest moments at MegaCon 2014
50 strangest shots from Spooky Empire's May-hem
7. What do you hate most about living in Orlando?
The weather. I'm not a fan of the brutal heat, five-month rainy season and the confusing few weeks of winter. This is the place where the weather can completely change in an hour. There was a day where it was 40 degrees in the morning, and 80 in the afternoon. Insanity.
8. What do you hate least about living in Orlando?
It's a very small-town vibe and mentality. Every time you go out, you run into someone you know, or have your buddy get you into a theme park, or can see a beachside sunrise and sunset in the same day across the state. It's very centralized and convenient. As a kid, we would come to Orlando to go to Universal, and it would blow my mind that you had a place where you could ride the movies. Of course, it was the first city I wanted to move to out of high school.
9. If you had a give Orlando a new nickname, what would it be?
The Soon-To-Be City. Orlando always seems to be striving with big ideas to get away from being the Theme Park City. We are soon-to-be a new multimedia mecca with the Creative Village. We are soon-to-be the big concert stop in Florida with a state-of-the-art Arena. We are soon-to-be a public transportation stronghold with the SunRail. It just always seems like the city is waiting in the wings to suddenly be put on the map for something great. It already is a great city. We just need to sit back and relax and enjoy it.
10. In one word, describe your day job.
Awesome.
11. What's your favorite coffee spot in Orlando?
I'm not a coffee drinker, but I have spent many nights in the most triumphant Austin's Coffee and Film. Whether having a photography show or playing xylophone in a band I used to be in, we always had some great memories there.
12. Do you have an orange juice of choice?
Florida's Natural Premium, no pulp. For the win.
13. SunRail: pro or con?
I have a love affair with my jeep, so to me, it's more of a con. I love driving. Public transportation is a very confusing thing to me, and I'm not into bikes or vehicles without air conditioning. So I don't understand how you take the train to a train station, and then ... how do you get to where you need to be from there? What if it's 10 miles away? Take a taxi? Walk? Rollerblades? Do people still rollerblade anymore?
14. Have you ever encountered Carrot Top? If so, what was the circumstance.
No, unfortunately, I have not! One day, though. Do they offer tours or anything? C.T.-watching groups that travel Park Avenue in search? I'd be interested in joining, if so.
15. Delta Burke or Wayne Brady?
I've never really seen anything that Wayne Brady has done, other then the Chappelle's Show episode, which was amazing, but Delta Burke we used to watch on Designing Women all the time, thanks to my mother's influence. Very legit.
16. What's the maximum amount of time you can spend on I-Drive before wanting to shoot someone?
I have actually spent a lot of time on I-Drive, between Wet & Wild - I have a thing about water parks, in case you haven't noticed - and the Convention Center and hotels, [for] MegaCon, Surf Expo, Spooky Empire, etc. The traffic definitely is the worst, but now with the new Twin Peaks opened, my interest to return to that area more often has ... peaked?
50 geekiest moments at MegaCon 2014
17. What's the weirdest thing you've ever seen in Orlando?
Finding Nemo, the musical at Disney's Animal Kingdom. It was the most bizarre thing I can remember. It's a giant puppet show, but you can see the puppeteers, and everyone is dressed like they walked right out of a Tommy Chong acid flashback. Plus it lasts 30 minutes, which feels like forever. I don't know, I was pretty disturbed by it.
18. Tourists: pro or con?
I'm pro tourists, I understand how an economy works, and they help and hurt everyone for sure. I don't like the traffic they bring, mostly because they will slow down at the first site of anything theme park-related. "Look honey! Look at the Mickey ears on the power lines! That's incredible! How'd they do that? Wow! Magic is real!" However, when I bought my home I did make sure to be as far in East Orlando as I could be.
19. What makes someone an Orlandoan?
If someone asks for directions to Wall Street, I-4, Park Avenue or 192, and you can point them in the right direction.