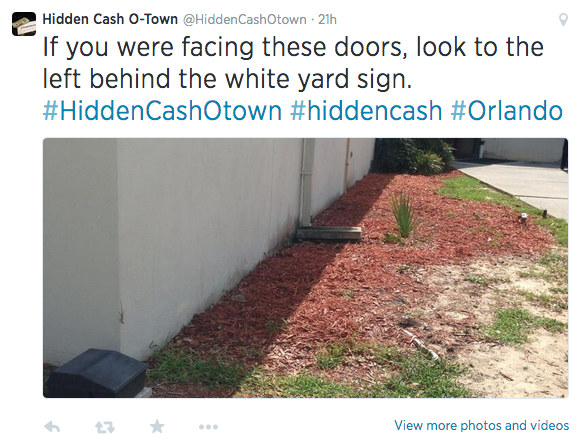 via
Last month, Jason Buzi started the Twitter account HiddenCash in the Bay Area as a "fun way to bring people together and give back, and put smiles on people's faces." It doesn't hurt that there's free money involved, either. His charitable treasure hunt hides small amounts of cash around San Francisco, leaving hints on Twitter as to where to find the moolah.
HiddenCash has inspired copycat accounts all across the country in cities like San Diego, Alamo City, Chicago and most important (to us, at least), Orlando. As of right now, there are currently two hidden cash accounts doling out clues and currency in the City Beautiful: HiddenCashOTown and HiddenCashOR. Both accounts have spent the last week hiding cash around Orlando and tweeting hints to its location.
Below are some examples of the clues you'll have to solve to find the money:
Once the riches are found, that's it for that location and you'll just have to eagerly await the next tweet. That is, unless you were the finder-keeper – then you're supposed to take a picture of yourself holding the envelope and tag the treasure-placer.
Do you think you know Orlando well enough to recognize specific spots from random images and hints and want a few extra bucks in your wallet? Start following HiddenCashOTown and HiddenCashOR and get hunting!